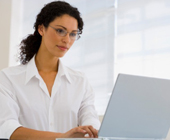 Keep your business running smoothly.
From start-ups to established companies, businesses use financing to achieve their goals.
Even businesses that have enough capital for major investments sometimes opt for a loan or credit line instead. Why? This leaves them with cash to cover unexpected expenses and exploit new opportunities.
At RBC, we understand that sometimes, even the best-run businesses are susceptible to cash flow fluctuations and require short-term financing to keep operations running smoothly. Our relationship managers are able to deliver customized, flexible credit solutions in the timeframe best suited to your needs. Talk with a RBC relationship manager about the specific needs of your business.
Explore each of these options to determine which solution is right for you: