You are on: Features and Benefits tab
Free USA SkyBox address for online shopping - Get the first year membership fee waived plus US$ 10.00 off your first shipment. Use your Visa credit card to register online at www.skybox.net/visa_eng
AVIS Discounts of up to 20% & Free Upgrades - Book online at www.avis.com/rbclac with discount number AWD# J072300 & coupon # UUWA039 for upgrades. Applicable locations are Europe, USA, Canada, Latin America & the Caribbean. Special conditions apply.....click here
FREE Auto Rental Insurance Coverage for coverage of the rental vehicle, up to 31 days (not occupants or third party vehicles/occupants) worldwide. The customer must book and pay for the rental in full with this card. The Gold cardholder must decline the Collision Damage Waiver or similar coverage; all drivers must be included in the rental agreement.
Price Protection – Up to US $400 per account per year
Reimbursement for the price difference in case the same product (model and year) of the same manufacturer is found at a lower price than the price paid with the Visa card. Conditions applied.

Purchase Protection – Up to US $1,000 per account per year
Coverage for theft or damage of most new products and items purchased. Conditions applied.

Extended Warranty – Up to US $5000 per account per year
Doubles the repair period offered by the original manufacturer's warranty for up to 1 year. Conditions applied.

Travel Information Services-
Assistance prior to travel- Visa Centre will provide info about destinations and Country visa requirements prior to travel and will assist in making necessary arrangements in case of medical travel.
Assistance during travel
Emergency Medical Assistance Service
Emergency Legal Assistance
Urgent Ticket Replacement
Emergency Messaging Services
Emergency Transportation Assistance
Prescription and Delivery of Valuable Documents Assistance
Local and international use
Cash access worldwide via banks and ATMS.
Global Service from VISA Int'l Service Centre, which provides emergency card related assistance for our customers who have traveled (outside home country), anytime, anywhere, via toll-free number.
urgent lost/stolen/damaged card reporting
urgent card replacement
urgent cash replacement
FREE 24hr/365 day access to manage your card, obtain balances, review transactions or make payments via:
Card Centre call collect or direct at 1-246-431- 6777. From outside Barbados call toll-free 1-888-847-5803
Digital Banking at http://www.rbc.com/caribbean
Payments/inquiries can also be made at our Branches during business hours.
Safety- no need to walk with cash
*RBC Royal Bank is not responsible for SkyBox's service (including, without limitation, delivery times or quality of service), any fees or expenses payable in respect of SkyBox's service or the proper functioning of SkyBox's website. Any questions or complaints regarding SkyBox's service should be directed solely to SkyBox Inc.
You are on: Chip and PIN technology tab
Chip & Pin for the highest level of security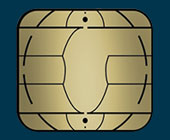 The RBC Royal Bank Visa credit card features state-of-the-art Chip & Pin technology, thanks to the chip embedded in the card, providing significant protection against counterfeiting and fraud.
The added protection through the use of a PIN adds peace of mind if your card is ever lost or stolen. When you make a transaction at the chip-enabled terminal, you're in control. Simply insert the card into the terminal and leave it there, follow the prompts and enter your PIN.
Managing your PIN
With your RBC Royal Bank chip and PIN credit card your PIN becomes a key security feature of your transaction. It is very important that you remember your PIN and never disclose it to anyone.
A few tips to help keep your PIN safe
Never write down your PIN or store it electronically.
Choose a number that is easy for you to remember but hard for others to guess. Avoid numbers such as your date of birth, phone number etc.
Always shield the PIN pad when entering your PIN
If you suspect your PIN has been compromised, call the number on the back of your card to change it immediately.
You are on: Contactless tab
The convenience of contactless payments
The new contactless feature included on the RBC Royal Bank Visa card is at no additional cost. It lets you pay for small purchases quickly and securely at locations that accept contactless transactions.
Pay with confidence and ease
This feature uses chip technology to provide you with one of the most secure contactless payment systems in the marketplace. Your card never leaves your hand, so you're always in control.
See Security brochure.
Step 1: Look for the symbol at checkout counters

Step 2: Wave your card over the secure terminal or hold it on the terminal

Step 3: Wait for approval and you're ready to go!
You are on: Requirements tab
Minimum age 18 years
Satisfactory credit history and debt servicing ratios (alternatively, the bank may consider secured facilities )
Completed and signed credit card application, including Statement of Affairs on application form.
2 Recent salary slips.
2 forms of ID (PP, ID, DP)
Job letter.
Copy of work permit for non-residents