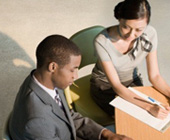 Owning a home in Caribbean makes excellent sense. The Caribbean islands offer natural beauty, superb weather, world-class services, international accessibility and more. You can choose the vacation home that suits you best from an attractive range of quality single-family residences, oceanfront estates, luxurious condominiums and elegant townhomes.
Owning a piece of paradise will allow you to enjoy an outstanding island lifestyle and benefit from solid investment and tremendous potential for growth.
RBC has the experts that can help make your dream purchase a reality and will guide you through the five easy steps to owning a piece of paradise:
Find a local qualified Real Estate Agent to discuss the type of property you would like to own
Identify a reputable local attorney to discuss costs and legal regulations
Find an attorney in your country to review important legal and tax implications
Contact a local insurance company/agent to learn more about the cost of insurance coverage for your new Caribbean home
A local property manager to ensure that your home is properly maintained
RBC has been providing banking services in the Caribbean for more than 100 years and has helped hundreds of non-residents finance their vacation homes in the region. You can get financing for up to 70% of the purchase amount and up to 15 years amortization. RBC's team of dedicated mortgage specialists will guide you through the entire mortgage process while ensuring your needs are met.
Current personal statement of affairs and if a company, we require audited financial statements for the last three years from a reputable Chartered Accounting Firm.
Satisfactory bank references of minimum of 3 years (2 minimum-originals) from banks acceptable to RBC Royal Bank. Total Debt Servicing Ratio is not to exceed 40%.
In some countries approval from the respective Central Bank &/or the Foreign Investment board may be required.
Proof of Income to service the debt (i.e. Employment Letters / Income tax return for the last two years).
Standard documentation for account maintenance at RBC Royal Bank, Credit Report, Sales Agreement, and Property Appraisal. Two forms of Government Issued ID for each Applicant
Registered First Charge over property. Stamped for full amount of the mortgage.
Title searched by lawyer approved by RBC Royal Bank
Property insurance coverage – all risks
Life insurance (May be Mandatory in some jurisdictions and Optional in others)
Co-signature/guarantee of spouse if applicable
In some countries Central Bank / Investment Board Approval may be required