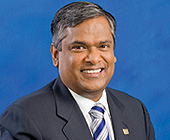 In 2008, Royal Bank of Canada (RBC), Canada's largest bank, acquired RBTT Financial Group, creating one of the most extensive banking networks in the Caribbean.
Beginning in 2011, we began to transition RBTT to the RBC Royal Bank brand across the region. As a result, in Barbados, on May 2, RBTT Bank and RBC Royal Bank will be amalgamated and operate under a single legal entity, RBC Royal Bank (Barbados) Limited.
This significant milestone brings together the history and heritage of RBTT and RBC in the Caribbean, with the global strength of RBC, reinforcing our commitment to put our "Strength at work for you".
Today, we have a presence in 19 countries and territories across the Caribbean, stretching from the Bahamas in the North to Suriname in the South, serving more than one million clients. Through our expansive network, we will be able to offer you access to an even greater range of products, solutions and services in the future.
By leveraging RBC and RBTT's more than 100-year heritage in the region, you will benefit from the best of two companies as we put our strength to work for you: best-in-class global banking practices and resources, with in-depth local knowledge of the region.
We will continue to focus on integrating our businesses onto a common platform across the Caribbean, enhancing the end-to-end and client experience by simplifying the way we do business, and improving the productivity in our banking network
Our rebranding signals our confidence in the future and demonstrates the strength, heritage and stability of RBC to all our stakeholders.
Together, we are one RBC.
Suresh Sookoo
Chief Executive Officer
Caribbean Banking, RBC