Earn Bonus Travel Rewards* or Pay No Annual Fee1
The choice is yours, receive 15,000 welcome bonus points or enjoy no annual fee (a savings of $115 USD) when you apply for the RBC Rewards Visa Platinum card by September 30, 2018! Become a cardholder today and enjoy more rewards and zero travel restrictions:
Earn RBC Rewards points on every purchase you make on the card.2
Choose any airline, any flight, any time—there are no blackouts or seat restrictions.
Book travel your way. Call us or book online—it's your choice!
Features & Benefits
Receive 1 RBC Rewards point for every $1 USD or local equivalent you spend on the card1
Combine your personal RBC Rewards account with other qualified family members of the RBC Rewards programme and pool your points
Track your RBC Rewards points total on your latest credit card statement or at rbcrewardscaribbean.com
Book online or with any travel agency using your card and then redeem your RBC Rewards points for a statement credit to pay for your travel purchase Learn More
Redeem your RBC Rewards points online or by phone for gift cards from local and U.S. retailers such as: Amazon‡, T.J. Maxx‡, Walmart‡, Macy's‡, Target‡, The Home Depot‡
Turn your RBC Rewards points into a cash back credit that you can apply to your account balance
If 15,000 Welcome Bonus Points* is chosen Bonus 10,000 RBC Rewards points will post by October 30th
Here's how to earn another 5,000 bonus points**:
Receive 500 RBC Rewards points for the first purchase processed on your new RBC Rewards Visa Platinum account
Receive 500 additional points when at least one cardholder on the account registers online at the RBC Rewards website
Receive 4,000 additional points when at least one registered cardholder on the account opts to receive e-marketing offers

Learn how at RBCrewardscaribbean.com
International Emergency Medical Services included for you, your spouse and dependent children with up to $50,000 USD for Covered Medical Expenses and up to $100,000 USD for Emergency Evacuation
Up to $500,000 USD in Travel Accident Insurance
Up to 31 days of Auto Rental Insurance worldwide
And more
The Choice is Yours
Offer ends September 30, 2018, so apply for your card today.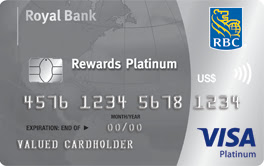 Apply now and receive 15,000 welcome bonus points.
15,000 Bonus