Think the only way to buy a home in the U.S. is to pay cash?
Think again.
You don't have to depend on your Canadian equity. By borrowing and purchasing in U.S. dollars, you can buy more than you think and hold on to your equity.
RBC Bank U.S. Mortgage Deal is On
Save with a $0 underwriting fee on new mortgage2. That's a savings of up to $825 USD (or over $1,000 CAD). Apply by June 30th, 2020.
Feels Like Home
There are no limits to where you can buy
We'll finance property in all 50 states.
Unlike other U.S. banks, we won't treat you like you're invisible
We use your Canadian credit history to help you qualify.
We won't charge you a foreign national premium
You'll save up to 2% on your rate and potentially thousands over the life of your mortgage.
Keep it flexible- You can choose a 3, 5, or 7-year mortgage term3
Renew it, at no cost, when the initial term expires, or move to a variable rate.
We don't charge pre-payment penalties
You can pay down or pay off your mortgage at any time.
Save on Foreign Exchange
Reduce the one-time impact of foreign exchange costs
Keep your Canadian dollar exchange to just a 20% down payment and closing costs. You can even use your Canadian home equity to cover your down payment.
Spread out your future foreign exchange costs
Because your mortgage payment is based on a 30-year term, your payments are kept low.
Let Us Be Your Guide
We share a border, a language and a love of sports. But our home buying processes have some differences. Our cross-border mortgage advisors work exclusively with Canadian buyers and will help you through the process.
Discover the Differences
Knowing what they are in advance can make for a smoother home buying journey
Ways We Can Help
Getting ready to buy? We'll help you navigate the process from start to finish
Mortgage Documentation Checklist
You'll need to provide quite a bit of documentation as you work through the process.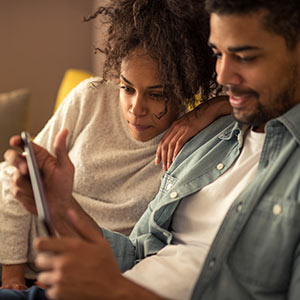 Get Up To $6500 Cash Back
Turn your U.S. home buying dreams into reality. RBC clients can get up to $6500 cash back when you buy or sell a U.S. home with RBC U.S. HomePlus™ Rewards4.
Learn More
Make Your U.S. Home Equity Work for You
Already own a home in the US?
Take advantage of your appreciation and the strong U.S. dollar and access your equity
Use the money earned from the currency exchange for virtually anything
Move money back to Canada
Easily move the money earned from the currency exchange back to Canada4
Borrow up to 80% of your home's value
Access your equity and improve your U.S. cash flow
Tap Into Your Equity
Home Equity Line of Credit6
Access your equity with a low-cost, flexible line of credit and improve your U.S. cash flow while preserving your Canadian credit.
Contact a cross-border mortgage advisor at 1-866-283-5928