Use Wherever "Tap"
is Available

Use Apple Pay on your iPhone or Apple Watch at any business that accepts contactless (tap) debit and/or credit payments.
A Simple Way to Pay Within Apps

Use your RBC credit on your iPhone or iPad‡ to pay using a single touch in any app that accepts Apple Pay, making it more convenient when you checkout.
Setting up Apple Pay is Easy
To get started you'll need:
An eligible iPhone or Apple Watch
Your physical RBC Debit and RBC Credit Card(s)
To be enrolled in the RBC app
iPhone
Open the Apple Wallet App and tap the plus sign from there and follow the onscreen instructions.
Apple Watch
Open the Apple Watch app on your iPhone and select "Wallet & Apple Pay", then tap "Add Debit or Credit Card". From there follow the onscreen instructions.
You'll need to sign into the RBC app during the Apple Pay set up process to verify your identity and confirm your banking information.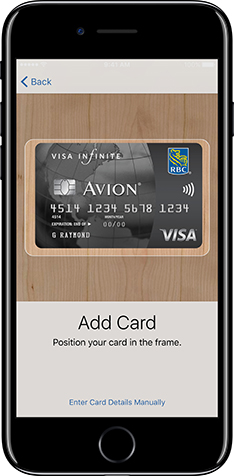 Add a Card Through the RBC App
If you already have the RBC app and have previously signed in, you are all ready to go! Just make sure you have the latest version.
How To Enroll
If you have never signed into RBC Online Banking, or any of our mobile apps, you will need to enroll before you can get started with Apple Pay.
Paying with Apple Pay
Now there's no need to dig out your physical wallet in order to make a payment. Just use your iPhone or Apple Watch at any contactless reader and you'll be on your way in no time.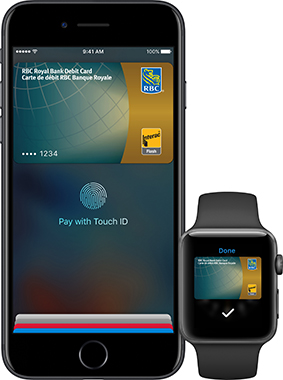 iPhone
To pay in stores, hold your iPhone to the terminal with your finger on Touch ID and you're done. You'll receive a confirmation and a subtle vibration to let you know your payment information was sent.
Apple Watch
On your Apple Watch just double-click the side button and hold the display up to the contactless reader. A gentle tap and beep will confirm your payment.
Check your balance before you pay
You also have the option to check your balance before paying by first opening the RBC app and selecting the card you want to use. Your balance will display and you simply select "Pay with Apple Pay" then hold your iPhone to the terminal when you're ready.
Get ready to Change the Way You Pay
Now you can experience a secure, simple and convenient way to make your everyday purchases with the RBC app and Apple Pay.
Download RBC Wallet
Learn More
View Legal Disclaimers
View the full list of Terms and Conditions for use of RBC Royal Bank Credit Cards and/or Debit Cards with Apple Pay
‡
Apple, the Apple logo, iPhone and iPad are trademarks of Apple Inc., registered in the US and other countries. Apple Pay and Touch ID are trademarks of Apple Inc. All other trademarks are the property of their respective owner(s).
1)
Apple Pay is currently not available for use with Business Credit or Debit cards at this time.
2)
Apple Pay works with iPhone 6 / iPhone 6 Plus and later and Apple Watch in stores. For a list of compatible Apple Pay devices, see
www.apple.com/ca/apple-pay
.
3)
RBC Mobile is operated by Royal Bank of Canada, RBC Direct Investing Inc. and RBC Dominion Securities Inc. RBC Online Banking is operated by Royal Bank of Canada.