Feel confident that your money is protected
Royal Bank of Canada and its subsidiaries1 are proud members of the Canada Deposit Insurance Corporation (CDIC).
The CDIC is NOT a bank or private insurance company. It is a Federal Crown corporation created by Parliament in 1967 to protect the money you deposit in member financial institutions, in case of failure. CDIC protects eligible deposits up to a maximum of $100,000 (principal + interest combined) per depositor, per insured categories.
To be eligible for deposit insurance, deposits must be:
payable in Canada
in Canadian currency
have a term of no greater than 5 years
Plus, CDIC insures eligible deposits separately (up to $100,000 including principal and interest).
View eligible deposits
Find out more about the instruments and/or products at RBC® that are eligible.
Learn the full details of coverage and limitations set by the CDIC.
Further Information concerning CDIC: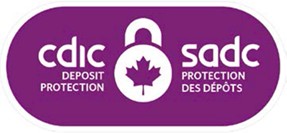 Ensure beneficiaries of the funds held in trust are eligible for maximum CDIC Coverage!
Download and complete one of the forms below:

Follow the mailing instructions on the form (the form must be postmarked by May 30) or drop it off at any RBC Royal Bank branch.
For further information concerning funds held in Trust: