Starting Your Business
Knowing where to begin can be challenging. With RBC Business Banking, you'll find the right support to get your business up and running in no time.
Starting Your Business

Register your business with Ownr and get up to $300 back* when you open an RBC business account.
Get Started
Building Your Business
Build and manage your business with greater ease by keeping business expenses separate from personal ones, build a credit profile and secure funding for growth.
Get Your Canada United Grant
Grants up to $5,000 available2 based on eligibility to support recovery efforts.
Let us find a tailored solution just
for you and your business.
Your Needs
+
Your Details
=
Your Solution
Don't worry, it won't take longer than a few
minutes.
Don't worry, it won't take longer than a few
minutes.
Manage Your Finances and Cash Flow Anytime, Anywhere with Digital Business Banking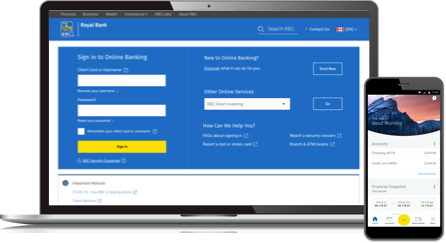 Many day to day business banking transactions can be done using RBC Online Banking for Business, RBC Mobile App or RBC Express.
File taxes online
Make or receive payments electronically
Electronic cheque deposit
Learn more
RBC Online Banking for Business
A standard online and mobile solution that provides simple money management for less complex business activities.
Sign in
Enrol Now
RBC Mobile App
Business banking on the go. Download the App Today
Or text "RBC" to 722722 and we'll send you the link
Frequently Asked Questions
What our clients are asking about
Helpful Business Tools and Templates
Find a Branch or ATM Near You
As a reminder, we are asking that branch visits be limited for urgent matters that must be done in person. As some locations are temporarily closed, see what locations are open before visiting a branch.
Or, book an appointment online to speak with a branch advisor by phone.