Two Options for Canadians to Tap Into U.S. Equity1
Borrow the amount that you need - up to 80% of your home's value - and preserve the credit you have available in Canada.
Consider this option if you want:
A lump sum of cash with monthly payments amortized over 30 years – spreading out your cost of foreign exchange
Our lowest interest rates - locked in for a 3-, 5-, 7-, or 10-year term2
The ability to make lump-sum payments at any time with no pre-payment penalties
$0 underwriting fees on new eligible mortgages until September 30, 20203
Call to Apply:

1-866-283-5928
Home Equity Line of Credit (HELOC)1
Consider this option if you want:
Peace of mind of having U.S. cash when you need it without concern for fluctuating foreign exchange costs
Interest-only payments for a 10 year draw period
No minimum balance, usage or draw requirements
Access to funds online, anytime
You could save thousands on closing costs with our No-Fee HELOC until September 30, 20204
Call to Apply:

1-866-283-5928
The Only U.S.-Based Bank Designed Specifically for Canadians
For over 16 years, RBC Bank has been helping Canadians make their U.S. home ownership dreams come true.
RBC Bank offers mortgages in all 50 states. Refinances and Home Equity Lines of Credit are available in every state but Texas.
1
Apply online or over the phone, your Cross-Border Mortgage Advisor will guide you through the process. In most areas, you can even complete your closing from Canada or with a Power of Attorney so you don't need to cross the border.
Our team of Cross-Border Mortgage Advisors understand the needs of Canadians, will translate the differences in the U.S. mortgage process and help you determine which kind of loan is right for your needs.
You'll have access to a team of experts on all of the considerations that come along with tapping your U.S. equity including taxes, foreign exchange advantages and ownership issues.
No need for a U.S. credit history; we'll use your Canadian credit history to help qualify you.
As a mortgage or HELOC client, you'll enjoy our U.S. Premium Checking account with the monthly fee waived✝, providing you
Unlimited transactions
Unlimited cross-border transfers and instant exchange between your RBC Canadian and U.S. bank accounts - available 24/7 through online or mobile banking5
Preferred foreign exchange rates
Over 50,000 no-fee ATMs nationwide6
Easy access to pay your U.S. mortgage and U.S. bills
+
No Annual Fee U.S. Credit Card with Rewards
Visa Signature Black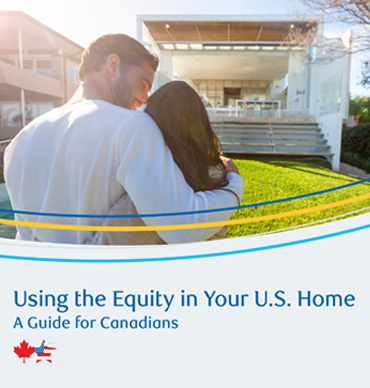 Get Your Free Guide to Using Your U.S. Equity
Use this guide to learn:
How to use your U.S. equity to your financial advantage as a Canadian
How much you may be able to borrow and your options for accessing equity
Benefits and considerations of each home equity option
Differences between Canadian and U.S. home equity financing
Tax and insurance considerations
Please provide a valid email.
Thank you!
Congratulations on your plan to make your U.S. home equity work for you. We're here to help and ready to be your partner every step of the way. Check your email for your link to Using Your U.S. Home Equity: a Guide for Canadians.
Error:
Email could not be sent.