Here's everything you need to bank at home
Doing your everyday banking online is easy and secure
Digital Banking Basics
Get to know the most common features used regularly in RBC Online Banking1Disclaimer and the RBC Mobile app1Disclaimer.
Moving Your Money
Learn how to send, receive and cancel transactions online.
Paying a Bill
See how you can easily manage your bill payments.
Viewing Your Transactions and Statements
Learn how to access your balance, transaction history, and statements online.
Requesting and Receiving Money
Find out how you can request a money transfer, send money internationally, and set up a CRA Direct Deposit.
Investing Online
See how you can start investing or check on your investment progress.
Financial Advice
Discover how services like NOMI and MyAdvisor can provide insight into your financial growth.
Easing Financial Stress
Learn how to skip your next loan payment, defer a credit card payment, and more.
Didn't Find What You Were Looking For?
Ask your Question Here
It Takes Just a Few Minutes to Enrol
Before You Begin
Setting up your profile is quick and easy, but before you start, you'll need one of the following to identify yourself:
RBC Royal Bank Client Card or RBC Royal Bank Business Client Card
RBC Royal Bank Credit Card

RBC Royal Bank Account Number
Watch How-to Enrol in Online Banking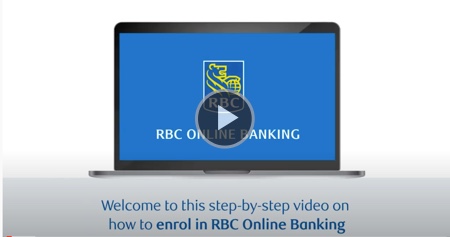 View instructions
Concerned about safety? So are we.
Your Online Security is Our First Priority
Your online security is our first priority. That's why we take extra precautions to keep your money secure. As you start banking online, you can rest easy knowing your information is safe with RBC.
RBC Digital Banking Security Guarantee
Should anything ever happen, we've got you covered. We'll fully reimburse you for any unauthorized transactions2Disclaimer made through the RBC Mobile app or RBC Online Banking.
Want to Speak with an Advisor?
Our advisors are ready to assist by phone. Whether you need a hand doing your banking online, or you'd like to speak with someone about your finances, we can help. Book an appointment through RBC Online Banking and an Advisor will call you.
Sign In to Book Appointment Now
Covid-19 Updates
Learn more about how RBC is helping clients by providing priority access to seniors, financial relief programs and much more.
Get the Latest COVID-19 Updates
1
RBC Mobile is operated by Royal Bank of Canada, RBC Direct Investing Inc. and RBC Dominion Securities Inc. RBC Online Banking is operated by Royal Bank of Canada.
2
For a definition of an unauthorized transaction and for full details regarding the protections and limitations of the RBC Digital Banking Security Guarantee, please see your Electronic Access Agreement for personal banking clients, and the Client Card Agreement and the Master Client Agreement for business clients. This guarantee is given by Royal Bank of Canada in connection with its Online and Mobile Banking services. Cardholders are not liable for losses resulting from circumstances beyond their control provided they have taken reasonable precautions to protect their Client Card and PIN (if applicable) as set out in the Client Card Agreement. Formerly known as the RBC Online Banking Security Guarantee.
Where Can I Find My Account Number?
If you are an automotive finance, mortgage, credit line, Homeline, loan or investment client, you'll need your account number and transit number, which you can find in the following documents:
Car Loan (Welcome letter)

You can find your transit and account numbers in the middle of the page.

Loan or Credit Line

You can find these on the first page of your account statement (for Royal Credit Line) or the last page of your loan agreement (for RBC Loan).

Mortgage or RBC Homeline Plan

You can find the transit and mortgage number on the first page of your mortgage statement for your Royal Bank Mortgage, and on Schedule A of your Personal Home Line Agreement for your RBC Homeline Plan.