Download Mydoh and Help Your Kids Learn the Value of Money
We all want the best for our kids, and helping them develop good money habits early in life is a great place to start. That's where Mydoh comes in.
Your kids will get their own physical and digital Smart Cash Card1
Track their transactions to help them manage money
Mydoh is just $2.99 per month if you're an RBC Client**
($4.99 per month if you are not an RBC Client)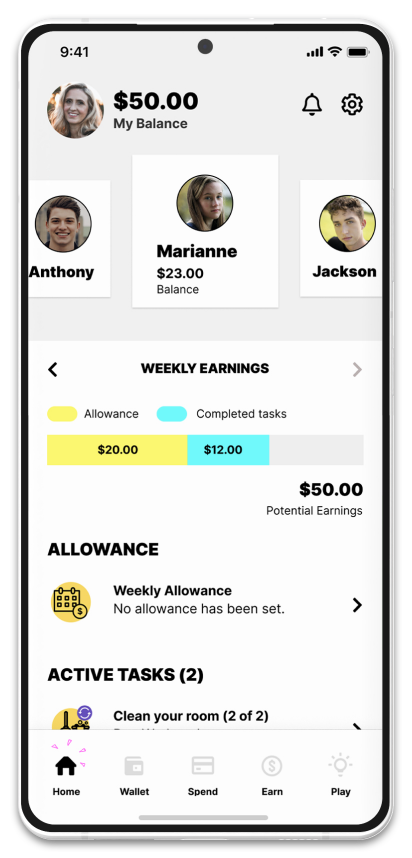 How Mydoh Helps You & Your Kids
Assign tasks and chores to help your kids learn the value of earning money
Set up an allowance for your kids
See your kids' spending activity, and react to their transactions using emojis, all in real time
You can easily lock (and unlock) your kids' Smart Cash Card in just one tap
How to Get Started
Download Mydoh from the App Store or Google Play
Add funds to your Mydoh account3
Invite your child (ages 6-18) to the app
Frequently Asked Questions
Mydoh is a digital app with a Smart Cash Card that helps kids learn and practice money management, while giving parents transparency and oversight. We believe that money conversations need to start early and Mydoh helps make the process easy and fun!
Here's how it works:‍
The platform
Mydoh encourages kids (with a little help from their parents) to build better money habits. The Smart Cash Card makes it easy to track in-store and online transactions.
Parents
Mydoh provides parents with oversight: Fund your kid's card, view their balance and spending activity, react and start conversations, teach the value of earning through chores - all in real time.
Kids
Mydoh makes it easy for kids to track their spending using the Mydoh Smart Cash Card. They can see their household chores, get paid on Pay Day and even get reminders!
Download the Mydoh app here. Click on parent sign up and follow the prompts.
After logging in, you can invite your kid(s) and add money to your Mydoh Wallet.
Your kid(s) can also download the app to view their Smart Cash Card balance, allowance and the tasks you assign them.
If you have any problems, let us know and we would be happy to help!
After signing up as a parent, you can send your kids an invite by tapping 'Invite a child from the Home screen. After you have invited your kids to Mydoh, they can activate their account by following these steps:
Help your child download Mydoh from the App Store.
Select 'Child Sign Up'.
Enter their invite code or use the link in their activation email to confirm the account.
Confirm their personal details, create a password, and agree to the terms.
There you go, your kids will be ready to start earning and spending with their Mydoh Smart Cash Card!
Note: Kids can only use the app when they have been invited by a parent.
Start your family's Mydoh smart-money journey with a 30 day free trial!i After your family's free trial ends, RBC Clients will be charged $2.99/month and non-RBC Clients will be charged $4.99/month.
How is the monthly subscription cost paid?
The subscription payment will be automatically taken out of your Mydoh Wallet.
Note:
RBC Client means an individual who holds at least one personal deposit account with Royal Bank of Canada (excluding savings accounts and U.S. dollar accounts) or a personal RBC Royal Bank credit card.
If you become an RBC Client after you have joined Mydoh, reach out to our support team through the in-app chat and we can assist you with updating your subscription pricing!
You can close your account at any time, without any cancellation fees. For more information on closing your account, click here.
iRoyal Bank of Canada reserves the right to cancel, modify, or withdraw the free trial offer at any time.
Mydoh Smart Cash Card is a reloadable Visa Prepaid Card for kids, issued by Royal Bank of Canada. Parents can send money to their kids' Mydoh Smart Cash card through the app, up to the allowable limits. Kids can use the card to purchase things in-store with Apple Pay, or online, subject to allowable limits. Mydoh is currently available for Android devices, and iPhone 6 or later with version 10.3 or newer.  
A few additional details about the Mydoh Smart Cash Card:
Card balance is available on the app header next to the profile picture. Funds are not CDIC insured.
Card terms and conditions are available in: www.mydoh.ca/rbc-terms.
For specific questions about card terms and conditions, please call 888-857-2748.
The card is reloadable.
You are responsible for all costs, fees, data plans and related charges related to your mobile device.
Funds on the card do not expire. Your card expires at the end of the month of the expiry date associated with your card. The remaining balance on your original card will be placed on your new card at no additional cost.
Online purchases
Kids can go to the Wallet tab in their app, tap on the card and re-enter their password to unlock their card details.
In-store purchases
With their Mydoh physical card, your child can make purchases in-store wherever Visa is accepted. Just tap or insert the card at in-store terminals (no PIN required).
Kids with an iOS device can add their Smart Cash Card to their Apple Wallet* by going to the Wallet tab in their app and selecting the 'Add to Apple Wallet' button.
Note:
You can review your child's Smart Cash Card limits here.
When making a purchase online, the billing address should be the same as what you used when signing up for your account or the address associated with your RBC account.
*To use Apple Wallet your child's Apple ID needs to show their age as 13 or above. The Mydoh Smart Cash Card cannot be used with Google Pay and Samsung Pay at the moment.