The 2023 Guide to Buying an Electric Bike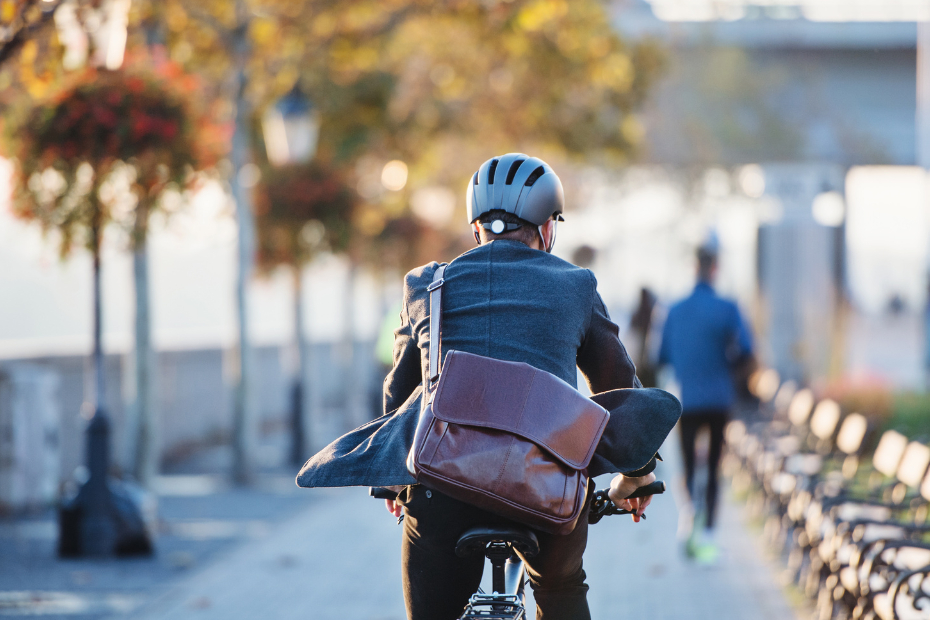 PUBLISHED July 27, 2023 • 6 min read
Now's a great time to buy an electric bike. The quality of available models is only going up, and they're a great choice for the environment.
What's more: eBikes are extremely fun to ride. You'll still be pedalling, of course; electric bikes aren't actually a 'slow moped' or 'very slow motorbike'. They're bicycles, with motors. And that motor will provide you with an assist up the kind of hill that would ordinarily make you grit your teeth or be out of reach.
Before buying an eBike, here are some of the key things to consider for making your purchase.
Decide what kind of rider you are
The main types of eBikes to look at are city bikes (including cargo bikes), road bikes, and mountain bikes. They all have their pros and cons, so it's important to consider what kind of rider you are so you can narrow your choices down to the right model.
For the weekly grocery haul
If you're really just planning to do short trips from point A to point B without ever getting off tarmac, then a city bike might be your best fit. You might even consider a cargo bike for extra capacity to haul goods, groceries, kids, and pets around your neighbourhood.
For the daily commute
If your eBike is chiefly going to be for commuting on, a foldable city bike that you can easily bring up to the office, rather than leaving locked on the street, can be a good option that will give you peace of mind that it's in a safe place. Foldable bikes are also a great option if you're short on storage space in your apartment.
For trails and long-distance routes
If you're a serious mountain biker or road cyclist, then it makes sense to get an eBike for that specific purpose. Like their traditional counterparts, electric mountain bikes (also know as e-MTBs) and road bikes have specialized features that help you travel on off-road terrain or long-distances, with the added bonus of motor assistance to help you travel faster and farther.
Work out your budget
You're going to want to have an idea of how much you're willing to spend before going into the store. Be realistic about costs. While there are now electric bikes out there for around $700, the adage 'buy cheap, pay dear' is real, and if the quality of its vital parts are low you'll likely end up having to spend more, down the line, just maintaining your ride.
There's a happy medium between those lowest-priced eBikes and $15,000 dollar models that are the equivalent of high-octane sports cars.
If you're looking for a low-hassle commuter bike that can get you up and down pesky hills in your neighbourhood, factor in a cost between $1,300-$2,000 for a new model.
Consider purchasing a second hand electric bike
To save money, and help the planet by reducing the consumption of new goods, consider looking for a second hand model. In particular, look out for the sales of rental eBikes at your local bike store (this often happens in fall or spring). You can also check your local online buy-and-sell pages for individual sales. As the eBike market gets bigger, more and more aficionados are selling their gently-used models in favour of new gear — and that's good news when it comes to balancing quality and price.
Shopping second hand eBikes: What to look out for
Just as you would with a second hand car, you'll want to know how much the model you're looking at has been used. If the mileage is high, the brakes, gears, and cogs might be pretty worn if they haven't been replaced — so ask about the bike's maintenance too in order to make an informed decision.
Most important of all, given that this is an electric bike you're looking at, is what state the battery is in. If the bike's been used quite regularly for short trips, that can actually be a good thing: it means the owner was charging the battery regularly too, which helps keep it in good condition.
Warranties for eBikes don't generally transfer to second owners. So if the battery is in fact going to need replacing soon, consider whether you're willing to factor in the extra cost. Also, check to see if the eBike battery you're looking at is still on the market. The batteries are typically unique to the specific bike model and brand, so check online that you can still purchase one.
Tip: Always make sure to ask for proof of ownership from the seller, so that you're not contributing to bike theft.
Keeping your eBike safe and secure
If your home or tenant insurance doesn't cover eBikes, take out a specific policy for your new purchase. It's also well worth investing in a good lock — a U-lock or heavy-duty steel chain with a padlock from a reputable manufacturer is your best bet. When locking your bike, if you can't store it inside, choose a well-lit space where there tends to lots of foot traffic. Also, check to see if there's a bike registration program with the police in your area, and keep a note of the serial number on the frame — that'll make it much easier to recover your eBike if it does get stolen.
Practice cycling safety on the road
You'll also want to keep yourself safe when on the road. Don't forget to wear a helmet. Make sure it fits snugly on your head — it shouldn't slide forward and back when you move. Also get some front and rear lights for your new eBike, as well as reflectors, and a bell. And, if it's been a while since you did much cycling, consider taking a cycling safety refresher course so you can feel confident and be on top of all the traffic laws.
Talk to the staff at your local bicycle shop
If you have a decent bike shop in your area, that's going to make a world of difference to your search. Talk to the specialists there; tell them your budget and your life story — or at least, let them know what you realistically plan to be doing on your new electric bike!
Ask to take a range of models for a test spin. There's no better way to tell which model's for you.
And while you're in the store, do ask if they do tune-ups and other eBike maintenance. If they do, it's much more likely that you and your new bicycle will have a long-standing relationship, rather than a short one where it ends up languishing in the garage for the next few years because it's a big hassle to send it away for little fixes here and there.
This article is intended as general information only and is not to be relied upon as constituting legal, financial or other professional advice. A professional advisor should be consulted regarding your specific situation. Information presented is believed to be factual and up-to-date but we do not guarantee its accuracy and it should not be regarded as a complete analysis of the subjects discussed. All expressions of opinion reflect the judgment of the authors as of the date of publication and are subject to change. No endorsement of any third parties or their advice, opinions, information, products or services is expressly given or implied by Royal Bank of Canada or any of its affiliates.
Share This Article