Correction in Canada's Housing Market Continues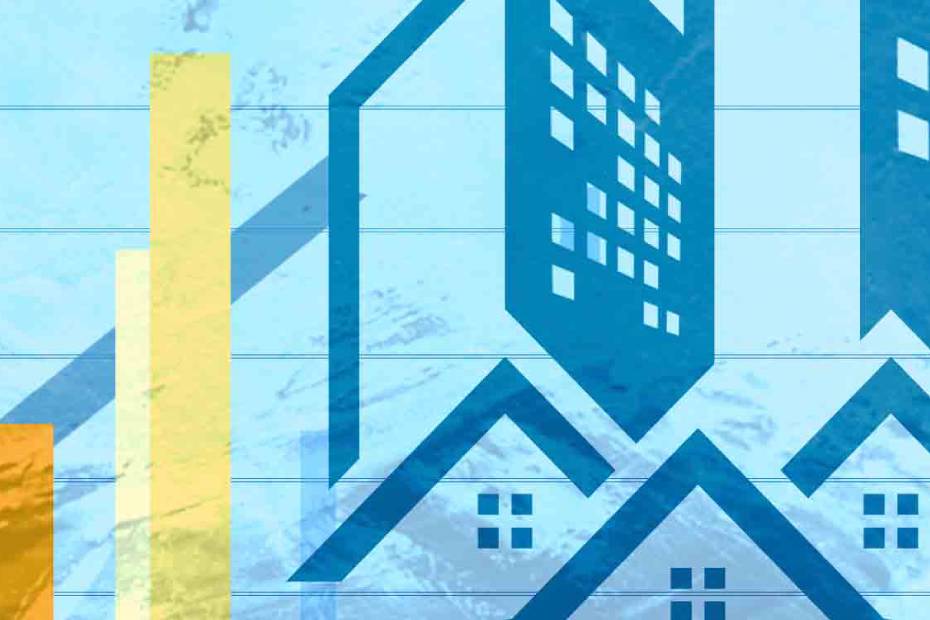 PUBLISHED December 16, 2022 • 4 min read
The following report was first published by RBC Economics on Dec 6, 2022.
Canada's housing markets are still squarely in correction mode. The latest results from local real estate boards confirm activity and prices generally remained under intense downward pressure in November. We think this will continue to be the case into the early part of 2023—conditional on the Bank of Canada halting its rate hiking campaign this month.
For the most part, local market activity is downright soft, at levels far below where they were before the pandemic. Vancouver, the Fraser Valley, Toronto, Hamilton, Ottawa and Montreal are among that group. However, areas of the Prairies (including Calgary and Edmonton) continue to operate above pre-pandemic levels despite the correction that has taken place to date. A stronger provincial economy and rising in-migration are no doubt keeping demand relatively solid in those markets.
Declining price trends are generalized but more advanced in parts of the country that experienced larger appreciation earlier in the pandemic. Toronto, the Fraser Valley and Vancouver have so far shown some of the sharpest drops. We see those trends continuing until demand-supply conditions tighten from current levels. We expect the cyclical bottom for prices to be reached around spring next year—though this is poised to vary market by market.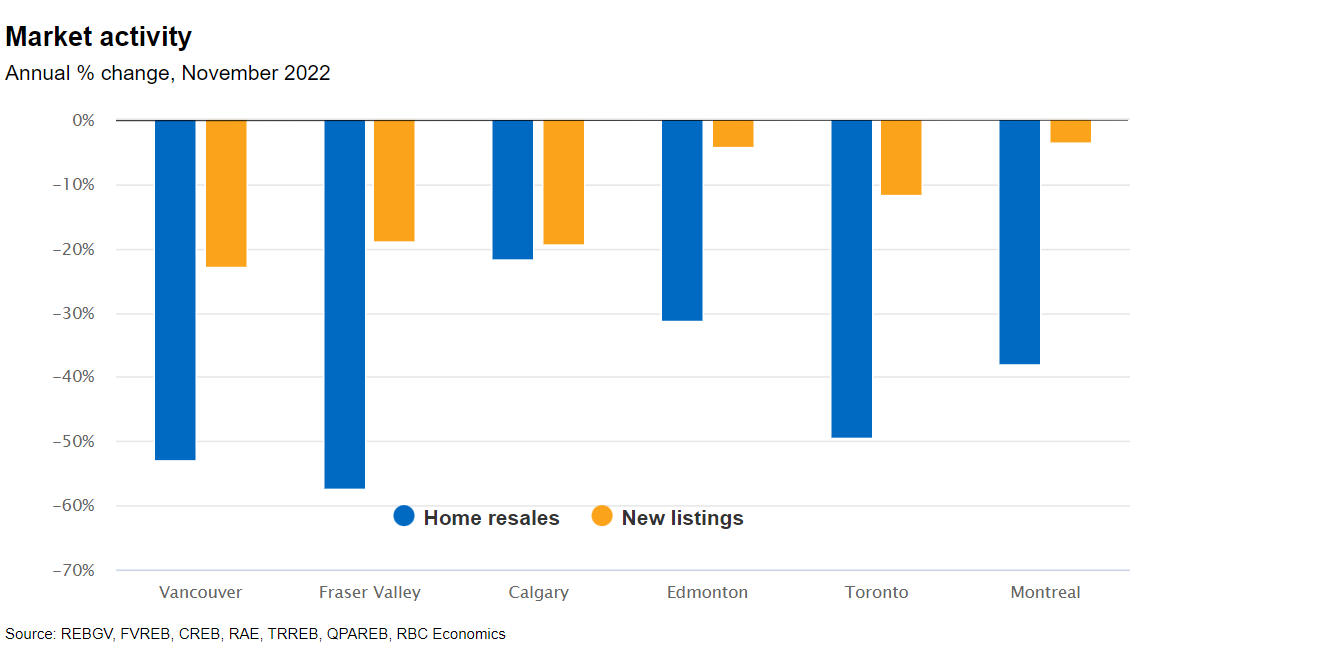 Toronto area—Quiet period continues1
The steep correction may be moderating but is still ongoing at this stage. Home resales fell another 3.8% m/m in November and the composite MLS HPI was down 0.8% m/m—an eighth consecutive drop. Clearly, sharply higher interest rates and the considerable loss of affordability continue to challenge buyers. And we think they will keep the market quiet for some time to come. The surge in interest rates has materially changed the equation for buyers, many of whom may be sidelined for an extended period. It will take further price declines to draw them back in the market. With demand-supply conditions no longer favouring sellers, we believe that's exactly what's in the cards. That said, prices have already adjusted significantly since the March peak—the MLS HPI is down 18%, or $245,000 (not seasonally adjusted)—and any further depreciation is likely to be more incremental. Indeed, the monthly rate of decline has slowed noticeably this fall. The picture will differ on a year-over-year basis, though, as comparisons to historically high price points a year ago will drive down annual rate of change meaningfully.
Montreal area—Downturn picks up some velocity2
The market has shifted to a lower gear in recent months. This became even more evident in November when home resales slumped an estimated 8% m/m to the lowest level in almost 13 years (excluding the pandemic shutdown). This took place amid an increase in properties put up for sale relative to October (on a seasonally adjusted basis), further easing demand-supply conditions. After sharply appreciating earlier in the pandemic, property values are now on the decline. The MLS HPI dropped sequentially in the five months ending October, and likely did so again in November. The correction is about to reverse the entire appreciation over the past year, leaving price levels below year-ago levels for the first time in more than eight years. The value of single-detached homes is under more intense downward pressure on the Island of Montreal and in Laval where the median price is down 10% and 4% y/y, respectively. We expect the price softening to continue in the near term as higher interest rates keep buyers on the defensive.
Vancouver area—Not out of the woods yet3
Activity remains not only soft but fell again last month after a brief pause in October. We estimate the drop in home resales was more than 12% on a seasonally-adjusted basis, bringing the cumulative decline since March at -51%. New listings were also down in November. So demand-supply conditions eased only marginally—remaining on the cusp of a full-blown buyer's market. This kept property values on a moderate downward track. The MLS HPI fell m/m (-1.5%, unadjusted for seasonality) for the eighth-straight month, slipping below its year-ago level (-0.6%) for the first time in almost three years. The index is off more than 10% since the April peak. We expect the market's extremely poor affordability will continue to weigh on activity and prices in the near term.
Find the full Housing Market Update at rbc.com/economics.

1Canadian Real Estate Association, Toronto Region Real Estate Board, RBC Economics
2Quebec Professional Association of Real Estate Brokers. Canadian Real Estate Association. RBC Economics.
3Real Estate Board of Greater Vancouver. Fraser Valley Real Estate Board. Canadian Real Estate Association. RBC Economics.
Robert Hogue is a member of the Macroeconomic and Regional Analysis Group, with RBC Economics. He is responsible for providing analysis and forecasts for the Canadian housing market and for the provincial economies.
This article is intended as general information only and is not to be relied upon as constituting legal, financial or other professional advice. A professional advisor should be consulted regarding your specific situation. Information presented is believed to be factual and up-to-date but we do not guarantee its accuracy and it should not be regarded as a complete analysis of the subjects discussed. All expressions of opinion reflect the judgment of the authors as of the date of publication and are subject to change. No endorsement of any third parties or their advice, opinions, information, products or services is expressly given or implied by Royal Bank of Canada or any of its affiliates.
Share This Article