The Easy Way to Invest Regularly
Many Canadians find it more affordable, convenient and effective to save regularly in small amounts. The strategy of paying yourself first allows you to make investing routine, by saving a portion of your income before paying bills and expenses. The easiest way to get started is to establish regular, automatic contributions. Set it up once and your savings keep growing over time.
RBC Makes it Easy for You to Get Started
You decide how much and how often to save—you can start with

as little as $25

a month
You can

be flexible with your contributions

—pick a frequency that works for you
You can

change your contribution amount

and frequency at any time

We do the work for you:

your contributions are automatically debited from your banking account at RBC or another financial institution
TIP: Set your regular, automatic contributions to coincide with every paycheque.
Chances are you won't even miss the money you set aside!
Grow Your Savings Faster with a Tax-Free Savings Account
In a TFSA, your savings and investments grow faster, because your money is growing tax-free. By making regular, automatic contributions to a TFSA, it could be even easier for you to save more throughout the year. Your withdrawals are tax-free as well. Your contributions are not tax-deductible.
TFSA vs. a Taxable Account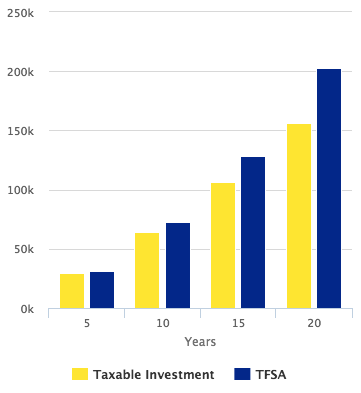 The chart shows how $6,000 contributed annually, earning 6% interest per year can grow within a TFSA vs. outside a TFSA.1 to disclaimer
Save in a Registered Retirement Savings Plan (RRSP)
An RRSP is a great way to save towards retirement. Your money is tax-sheltered — so it can grow faster, and you may save money at tax time as qualified contributions can be deducted from your income.
Regular, automatic contributions to your RRSP is a great way to build your savings, as you'll save more money in the long-run than if you make a lump-sum annual contribution.
Learn more about RRSPs
Calculate how quickly your savings can grow:
You can also set-up regular contributions to the following accounts:
Talk to an Advisor
An RBC advisor will work with you to develop an investment plan specifically tailored to your goals.