The Suncor Employee Discount Program
Suncor provides an employee discount on fuel, convenience store items and car washes purchased at Petro-Canada retail locations with any RBC Royal Bank credit card1 that's been registered for the program.
The discount is offered to regular salaried and hourly full-time and part-time Suncor employees and retirees. Contractors, temporary and casual employees are not eligible to receive the discount.
For more information, please refer to the Employee Discount Terms and Conditions.
To Get Started You'll Need:

An Eligible RBC Credit Card
Don't have one? Apply now


RBC Online Banking
Not yet banking online? Enrol Now
Ready?

Sign in to RBC Online Banking to register for the employee discount.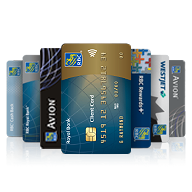 Find the Right Card For You
In addition to saving on fuel and earning more points, experience the RBC difference with an RBC credit card.
Frequently Asked Questions