Branch Safety and Account Opening Options
For the health and safety of our communities and employees, we have introduced new safety protocols in some branches and temporarily closed others.
To address the challenges facing international students, we are happy to schedule an appointment to open a bank account by phone, video conference or in branch.
Get More Perks for Less, Only at RBC
Pay for those little extras. Bank with RBC and get unlimited debit transactions in Canada. Plus, you could get approved for a credit card with no credit history required4Disclaimer.
Get no-monthly-fee banking2Disclaimer
Enjoy unlimited debit transactions in Canada with an RBC Advantage Banking account for students. Sign up for the Value Program to earn Avion points when you pay from your account3Disclaimer
No Canadian credit history required
When you bank with RBC, you can apply for an RBC credit card even with no prior credit history in Canada5Disclaimer. Get a credit limit up to $2,0004Disclaimer.
Bank anywhere, anytime with mobile solutions
Stay on top of your money 24/7. The RBC Mobile Student Edition of the RBC Mobile6Disclaimer app makes banking easy.
Account Features and Benefits
Enjoy the Value Program at no additional cost:

Shop online and in-store with your enrolled account to earn points on debit.3

Disclaimer

Free

Interac e-Transfer transactions9

Disclaimer

, 10

Disclaimer
Here's How You Can Get Your $1001

Disclaimer

Cash Offer

Open an RBC Advantage Banking for Students account by October 31, 2022.

Use your new RBC bank account to complete 2 of the following transactions by December 30, 2022:
Eligible online or in-store purchase26

Disclaimer

Interac e-Transfer transaction
Mobile Cheque Deposit

We'll deposit your cash bonus directly into your new RBC bank account for students.
Add a Credit Card—No Credit History Required5

Disclaimer
Ask about our other credit cards when you talk to an RBC Advisor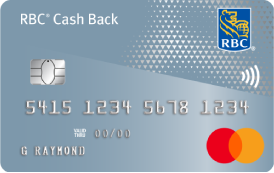 Get a limit of up to $2,0004

Disclaimer

No credit history required for RBC personal banking clients5

Disclaimer

. Higher credit limits are subject to higher income and asset requirements.
No annual fee

Get 4% bonus cash back

for the first 3 months (up to a maximum spend of $1,250) with a new RBC Cash Back Mastercard†

Disclaimer

. That's up to 6% Cash back on grocery store purchases for the first three months and up to 5% on all other purchases for the first three months†

Disclaimer

. Offer ends

February 28, 2023

.
Annual Fee: $0
Additional Card: $0
Purchase Rate: 19.99%
Cash Advance Rate: 22.99% (21.99% if you reside in Quebec)
Additional Fees
Cash Advance: $5.00 in and outside of Canada
Balance Transfer Promotional Rate Fee: Up to 3% of transaction amount
Dishonoured Payment Fee: $45.00
Overlimit Fee: $29.00 (fee does not apply if you reside in Quebec)
Additional Copies: $5.00 for Monthly Statement, $1.50 for Statement Updates at the ATM, $2.00 for Transaction Receipts
Installment Plan Fee: If applicable, either a (i) one-time fee of up to 3% of total purchase amount, or (ii) monthly fee of up to 1.15% of total purchase amount (fee does not apply if you reside in Quebec)
Easy and convenient to earn cash back even after the offer period.
Up to 2% cash back on grocery store purchases26

Disclaimer

Up to 1% cash back on all other qualifying purchases and pre-authorized payments26

Disclaimer
No limit to what you can get back
That's right – get unlimited cashback27Disclaimer. Plus, your cash back credits accumulate automatically so you don't need to keep track.
Save and earn faster with RBC Offers
Load personalized offers from great brands before you shop to get cash savings or to earn bonus Avion points faster28Disclaimer.
Open Your RBC Student Account Today
Start opening your account online, through the mobile app, over the phone, by video call or at a branch. Be sure to have your passport and study permit handy for your appointment.
Open an Account
Call 1-866-583-9122 to book an appointment.
Call 1-866-583-9122 to book an appointment.