Virtual program helps farmers thrive in the rapidly changing field of agriculture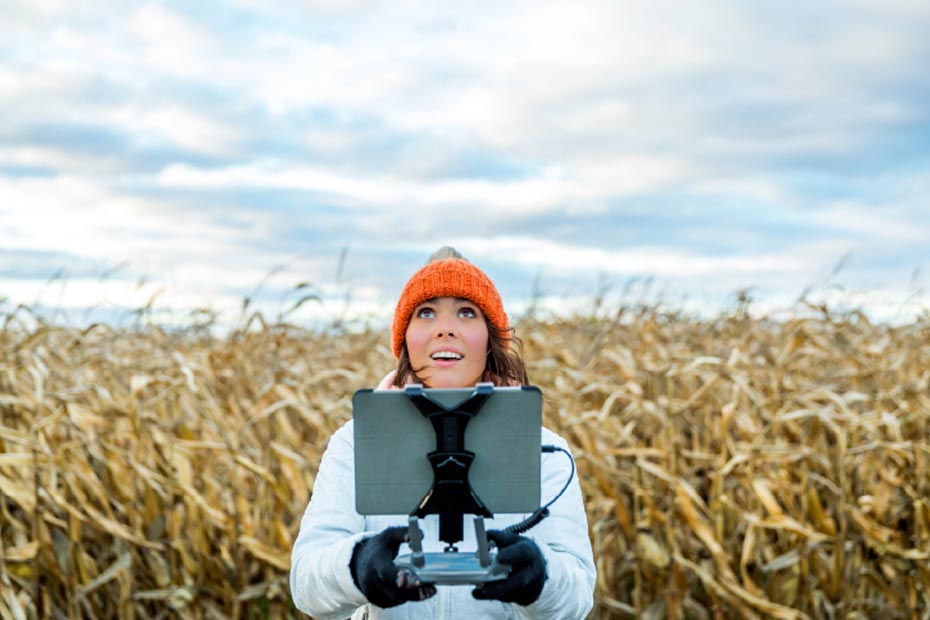 PUBLISHED January 17, 2022 • 5 min read
Within the next 25 years, there will be about 9 billion people to feed around the world – that's over 1 billion more than there is today. Consistently ranked one of the world's top exporters, Canada is a key player in feeding the global need – but with
110,000 farmers expected to retire in the coming decade
, it's essential to foster talent and provide resources to the next generation of farmers to enable their success. "We as a country have such an opportunity to feed a growing global population in a world that is demanding more of the food that Canada can produce," says Ryan Riese, RBC's National Director of Agriculture. "We have a rich history of agricultural production. We have a lot of expertise. We have a great infrastructure to really take advantage of the global opportunity. But there are things we need to do as agriculture continues to change." As Riese explains, equipping the current generation of farmers with essential tools to help them run a farming operation that will withstand many of today's challenges and take advantage of future opportunities is key. That's where the Foundations in Agricultural Management course comes in.
Introducing Foundations in Agricultural Management
The Foundations in Agricultural Management course, a collaboration between University of Guelph, Farm Credit Canada (FCC) and RBC Future Launch, provides an introduction to key management concepts that lay a foundation for farmers to take a more proactive approach to managing their business and planning for the future. This initiative reflects RBC's commitment to go beyond traditional banking and work with like-minded organizations, to create more value in the marketplace. In 2019, for instance, the bank joined forces with McGill's Desautels Faculty of Management and the Globe and Mail to make personal finance education available to all Canadians. "This online Ag program will help address some of the barriers and issues within the sector by focusing on the management of the farm business and better equipping producers to look after the key areas of the business," says Riese. "We see this course as being one of the many important initiatives in attracting interest in the industry but also to build up the skill set of people already interested in being in the sector." The Foundations in Agricultural Management course follows an eight-module online format that consists of one or more videos delivered by world-class researchers and teachers at University of Guelph. "We've tried to identify through the eight modules key areas we think are really important and that agriculture producers across Canada want to learn about so they can be in a better position to lead their farm business going forward," explains Riese. For instance, two modules are dedicated to building financial literacy skills. "Because every cent counts in what is often a low-margin business, the more the producer can understand their numbers, the better decisions they can make with them," Riese adds. The course is rounded out by modules covering topics in people management, risk management, transition planning and mental health – an increasingly important and relevant topic for individuals and families working in the agricultural sector. "Farming can be a very stressful industry, and farmers are viewed – and sometimes view themselves – as always having to be strong and not show vulnerability," explains Riese. "We are hoping that by contributing to this topic, highlighting the importance of mental health and farming and showcasing the tools and resources available, that farmers can feel comfortable supporting their own mental health and the health of their staff and families." Free, self-paced and online, the Foundations in Agricultural Management course was intentionally designed to fit with the demands that come with farming. While there are other courses offered across the sector, they often require travel or time away from the farm. "We wanted to provide education that was based around the day-to-day activities of the farmer, offering the flexibility to take the course when and where it's good for them," says Riese. With additional resources available within every module and the ability to go back and revisit topics of interest, it's an on-demand educational experience that addresses the needs of the farmer, on the farmer's schedule. "Sometimes you look at the farm, you look at the land and the buildings and you look at the animals as the most important assets to the farm. But really, it's the people who are truly number one. People are the biggest asset," says Riese, showcasing that farmers are central to the success of Canada's agricultural sector – today and in the future.
Foundations in Agricultural Management will be offered four times per year over 2022 and 2023. Registration for the first program opens January 17.
Upon conclusion of all the course, participants will receive a University of Guelph Foundations in Agricultural Management certificate of completion.
This article is intended as general information only and is not to be relied upon as constituting legal, financial or other professional advice. A professional advisor should be consulted regarding your specific situation. Information presented is believed to be factual and up-to-date but we do not guarantee its accuracy and it should not be regarded as a complete analysis of the subjects discussed. All expressions of opinion reflect the judgment of the authors as of the date of publication and are subject to change. No endorsement of any third parties or their advice, opinions, information, products or services is expressly given or implied by Royal Bank of Canada or any of its affiliates.
Share This Article