We Make it Easier to Differentiate Your Business Through Digital.
Receive tailored advice to guide you through your digital journey.
Access technologies that will accelerate your digital transformation.
Get financing options designed to support your evolving tech needs.
The Impact of Digital Transformation
How We Support You


One of our specialists will contact you to review RBC Go Digital™ program options

We'll connect you with our technology partners who can support your specific digital transformation needs.
Build and Promote Your Online Store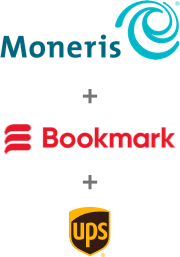 Sell More With An Online Store
Get Bookmark fees waived for 6 months (a $239.70 value).5
To help your business thrive, it's more important than ever to give your customers the option to buy online. In collaboration with Moneris† and Bookmark†, we've created an exclusive offer for RBC clients5 - Build your online store with Moneris Online and Bookmark, and Moneris will waive the Bookmark fees for 6 months.5. Plus, you'll enjoy preferred rates on UPS± shipping and accessories, including up to 50% off small package shipping.6
Taking your business online is easy:
Build your website with Bookmark: No coding or design experience needed.
Accept payments with Moneris Online: Process debit or credit card payments through your website.
Ship to customers with UPS:  Enjoy preferred rates on UPS shipping and accessories.6
Learn More
Frequently Asked Questions
We know that businesses who adopt new technologies to support their operations see cost savings, revenue growth, increased customer loyalty and opportunities for growth. Research shows that of companies that have undergone a digital transformation, 41% increased their market share, 30% increased their revenue and 37% increased company morale. (Source: Cisco.com)
Businesses in the following industries are eligible for the Go Digital™ program: Wholesale, Logistics, Retail, Manufacturing, Healthcare.
Every business is at a different stage when it comes to their digital capabilities and readiness for digital transformation. If your company achieves a "lagging" or "adopting" score, it means you have a great opportunity ahead of you. Our team of technology partners can provide advisory services as well as strategies to help you action the recommendations in a timely way. RBC is here to make it easier to access financing so you can quickly take advantage of your digital opportunities.
Once you complete the tool, a specialist will reach out to you to set up a time to talk about your digital strengths and opportunities. They will consult with you on how to make the most of what you have, and what new technologies and/or training can help your business thrive.
Ready to Go Digital™?
Digital Readiness Tool
Discover how your business can thrive in a digital world