Apply for an RBC Cash Back Mastercard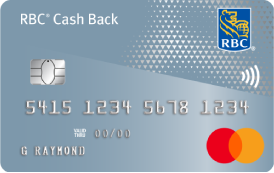 Get up to $75 in value with this exclusive offer for Petro-Points members!*
(Offer ends Aug 15th, 2022)
Limited Time Offer
Get 5% bonus cash back on eligible purchases on your card (max. spend $1000) within the first three months of approval ($50 value)**
Receive a one-time bonus of 25,000 Petro-Points ($25 value) when you link your new credit card to your Petro-Points card1. Linking must be completed within 30 days of credit card approval
Card Details
Cash Advance Rate:
22.99%
(21.99% if you reside in Quebec)
Cash Advance Fee: $5.00
Balance Transfer Promotional Rate Fee: Up to 3% of transaction amount
Dishonoured Payment Fee: $45.00
Overlimit Fee: $29.00 (No Overlimit Fee for residents of Quebec)
Additional Copies: $5 Monthly Statement, $1.50 for Statement updates at the ATM, $2 for Transaction Receipts
Installment Plan Fee: If applicable, either a (i) one-time fee of up to 3% of total purchase amount, or (ii) monthly fee of up to 1.15% of total purchase amount (no fee in Quebec).
Cash Back Benefits
Easy and Convenient to Earn Cash Back
No Limit to What You Can Get Back
Get unlimited cash back4, plus your rewards accumulate automatically, so tracking is hassle-free.
Additional Features
Purchase Security and Extended Warranty Protection6

Automatically protects your eligible card purchases against loss, theft or damage for up to 90 days, and doubles the manufacturer's original Canadian warranty for up to one extra year.

Credit Card Lock7

Stop charges to your card temporarily when you've misplaced it.
Optional Extras
Make the most of your RBC credit card by adding Value Added Services8 such as:
Balance Protector Insurance
RBC Road Assist
Identity Protection
Optional Travel Insurance
Get This Card
Apply using our safe and secure online application and get a response in less than 60 seconds.
Apply through the link provided by Aug 15th, 2022