How it Works
Paying with your chip and PIN credit card is just 3 easy steps: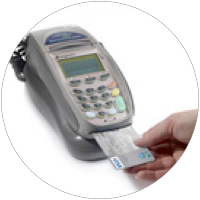 Step 1
Insert your card into the terminal and leave it there
Insert with the chip facing up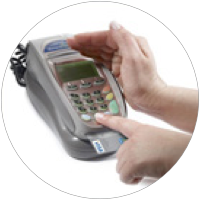 Step 2
Follow the prompts and enter your PIN
Be sure to cover the terminal keypad from wandering eyes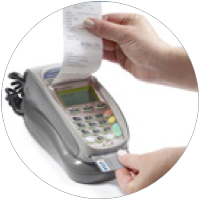 Step 3
Wait for approval, then remove your card
Most terminals beep when the transaction is complete. Don't remove your card before you're prompted as it could cancel the transaction

Attention:

Protecting Your PIN

Keeping your PIN safe plays a big role in keeping your transactions secure
Never share your PIN with anyone – including your bank, family or friends
Avoid using obvious numbers such as your birthday, address or phone number that are easy to guess if your card is lost
Change your PIN every so often. If you think someone else knows it, change it immediately by visiting an RBC Branch
Don't write down your PIN or store it on your phone
Cover the key pad when entering your PIN in public
Concerned about Credit Card Fraud?
Rest easy! Provided you've been responsible in protecting your card and PIN, you're protected against any fraudulent or unauthorized use of your card both in-store and online.
Frequently Asked Questions
They hold your card number, expiry date and name embedded within an encrypted microchip to keep your information private and secure. To learn more on how we keep your information safe, view our
RBC Privacy Policy
.
Anywhere in the world where credit cards are accepted. If you're using your card at a location that doesn't have a chip-enabled terminal, simply swipe your card and sign your name.
Yes. For retailers who do not have chip-enabled terminals, just swipe and sign.
Yes, but you won't need your PIN for online or phone transactions, so be sure never to share it – even to a bank representative. Most telephone and online transactions usually require the 3 digit verification code on the back of your card to complete your purchase.
All RBC personal and business credit and debit cards contain chip and PIN technology.
It's possible that your card could be damaged or it could just be dirty. Wipe the chip clean and try your payment again. If that doesn't work, visit an RBC Branch so we can help you.
You'll be assigned a new PIN in the mail separately from receiving your credit card. If you already have an RBC debit card, the PIN on your credit card will be set to match your debit card.

If you don't know your PIN, you can visit any RBC Branch with two valid pieces of ID to change or reset your PIN.
The PIN on your credit card was matched to your RBC client card PIN for your convenience. If you have any concerns, you can always change your PIN by visiting an RBC Branch.
If you'd like to change the PIN, or if you've forgotten your PIN, simply visit an RBC branch with two valid pieces of ID.
Yes, you can swipe your card at non chip-enabled terminals anywhere in the world where credit cards are accepted.
Yes but some terminals and ATMs overseas won't accept a PIN with more than 4 digits, so be sure to change it before you go.
For questions or concerns about your RBC chip and PIN credit card, please contact us at 
1-800-769-2512
.