There's nothing you look forward to more than your next trip. That's why with Avion, you get the flights you want, at the points you expect—with no surprises.
As an Avioner, you can travel on your own terms — the way travel should be. Because, there's nothing we look forward to more than helping Avioners get to their destination.
Why Avion?
A travel rewards card that actually wants you to travel. With Avion, you get:
More Value

More Value

Your points take you farther. You can travel for as low as 15,000 points. Plus, RBC Rewards points don't expire1, so you can use your points where and when it's right for you.

More Freedom

More Freedom

Choose any airline, any flight, any time2. No blackouts. No seat restrictions. Choose from over 130 airlines and 200,000+ hotels and resorts.

More Rewards

More Rewards

Earning points is easy with Avion. Get RBC Rewards points on all your purchases, plus an extra 25% on eligible travel related purchases3 on the RBC Avion Visa Infinite credit card.
Flexible Points

Flexible Points

Use your points for travel, to pay bills or even redeem for merchandise. You can also convert RBC Rewards points to other eligible loyalty programs. The RBC Rewards program helps you make the most as an Avioner.

Built-In Travel Coverage

Built-In Travel Coverage

Enjoy peace of mind on your travels with a comprehensive suite of insurance coverages offered with our Avion credit cards4.

NEW Mobile Device Insurance

Built-In Travel Coverage

Get coverage up to $1,500 in the event your mobile device such as your cell phone is lost, stolen, accidentally damaged or experiences mechanical failure4.
An Avion Card For Every Traveller
Let's find the right Avion credit card for you.
RBC Avion Visa Platinum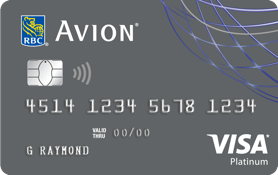 RBC Avion Visa Infinite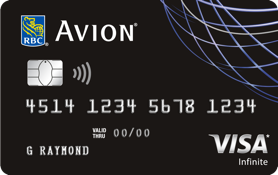 RBC Avion Visa Infinite Privilege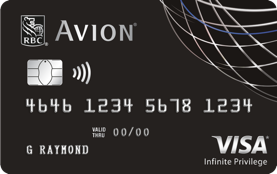 Are you a Business Owner?
Check out the new RBC Avion Visa Infinite Business card
Top Questions About Avion
Avion is not just a travel rewards card, it's a lifestyle. As an Avioner, you automatically get access to the best of everything—from best-in-class travel rewards, to exclusive perks and privileges, plus points on everyday purchases. And, unlike some other travel rewards programs, you can use your points to cover airline fees, taxes, hotels, car rentals, excursions, and more. The best part is that your points are not limited to just travel. You can use your points for virtually anything, like saving for the future, shopping for the latest tech, donating to your favourite charity and so much more—giving you more value, more freedom and more rewards.
No. Unlike other travel credit cards, your points never expire1 and there's no limit to the points you can earn. This is part of our unwavering commitment to our clients. We want you to use your points where and when it's right for you.
Travel is our passion too, and we want you to love using your points. We're here to help make your travel easier and more enjoyable. With Avion, there are no blackout periods, seat restrictions, or unnecessary stopovers. That means if there's a seat available, you're flying — even during peak seasons like March break and holidays.
You'll earn points every time you make a purchase with your card. Plus, we're always introducing new ways of earning points faster so you can travel further. For example, earn 25% more points per $1 spent3 when using your RBC Avion Visa Infinite credit card for travel related purchases such as rental cars, flights and hotels. That's not all, instantly save 3¢/L on gas when you link your RBC Avion card to your Petro-Points8 card and start saving at Petro-Canada every time. You'll also earn 20% more RBC Rewards points and Petro-Points9. And now, earn even faster with the RBC Rewards app10 which brings you exciting new offers, including ways to earn bonus points while you shop at your favourite brands.