Benefits of an RRSP
At RBC Royal Bank, you can now meet with an advisor online to discuss your retirement savings goals. See MyAdvisor.
Pay Less Income Tax Now

Your annual contribution can be deducted from your gross income, reducing the amount of income tax you pay that year.
Defer Tax on Investment Income

The income you earn is sheltered from tax, allowing it to grow faster. By the time you retire and withdraw funds, you will likely be in a lower tax bracket.
Save Faster with an Automatic Contribution Plan
Investing Regularly in an RRSP Pays Off
The chart shows how $50 contributed weekly, earning 6% interest, can grow to over $218,000 over 30 years.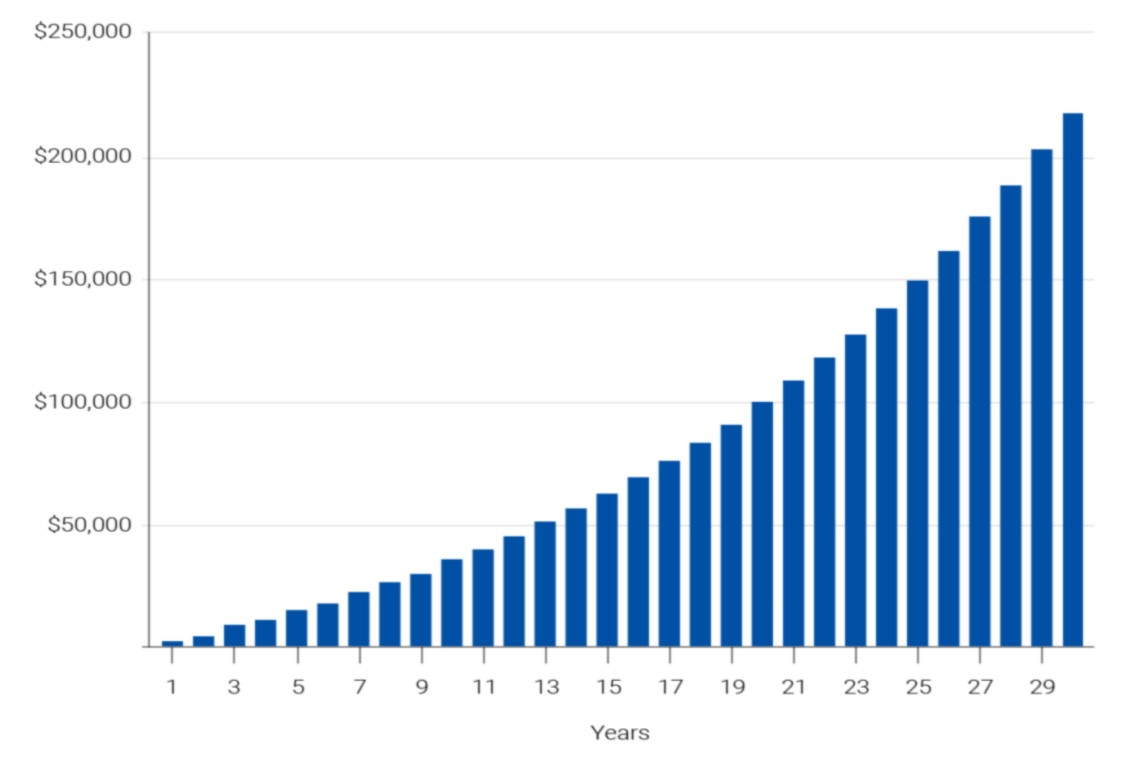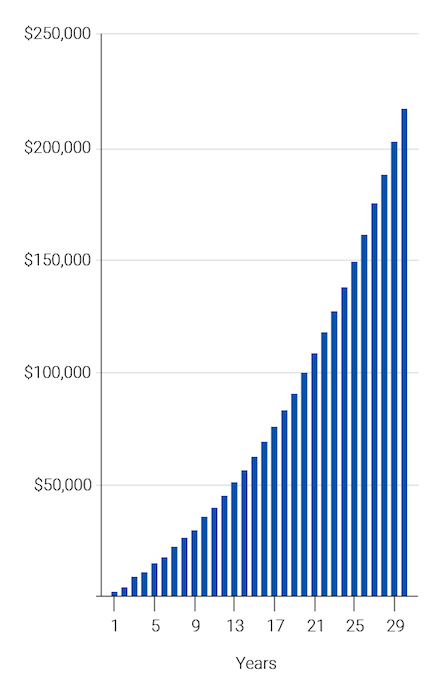 RRSP Calculator
See how convenient it is to save with regular, automatic contributions to your RRSP3.
RRSP FAQs
Explore top RRSP questions.
What types of RRSPs are available?
Individual RRSP:

The most common type of RRSP is a plan registered in your name. The investments held in the plan and all the tax benefits belong to you.

Spousal RRSP:

When you contribute to a spousal RRSP, you still get the tax deduction but the plan is registered in your spouse's name. (Your spouse's contribution limit to his or her own plan is not affected.) It's a great income-splitting option if one of you earns more than the other.

Locked-in RRSP:

If you leave your employer before you retire, you may be offer the option to manage your vested pension funds. A Lock-in RRSP—Locked-in Retirement Account (LIRA) in some provinces—enables you do this. As the name suggests, investments held in this plan type are locked in and generally, cannot be withdrawn before retirement.
Group RRSP: Some employers offer a Group RRSP, a collection of individual RRSPs for the company's employees. As an employee, your RRSP contributions are taken from your pre-tax pay through payroll deductions, reducing your tax burden immediately.

Interested in taking the lead on your retirement savings strategy? Check out RRSPs at RBC Direct Investing for a wide range of investments and innovative tools to help you build your portfolio.
How much can I contribute to an RRSP?
There are contribution limits on RRSPs. To find out the exact amount you can contribute for the current year, check the most recent Notice of Assessment you received from the CRA.
As a guideline, your allowable RRSP contribution for the current year is the lower of:
18% of your earned income from the previous year
The maximum annual contribution limit for the tax year
The remaining limit after any company sponsored pension plan contributions
Below are the maximum annual RRSP contribution limits for the last seven years:
| Year | Contribution Limit Per Year |
| --- | --- |
| 2013 | $23,820 |
| 2014 | $24,270 |
| 2015 | $24,930 |
| 2016 | $25,370 |
| 2017 | $26,010 |
| 2018 | $26,230 |
| 2019 | $26,500 |
Once you have opened an RRSP, you can make additional contributions online if you have RBC Online Banking access and an RBC Royal Bank chequing or savings account.
Sign in and follow the steps below to contribute to your RRSP online.
From the Accounts Summary page, click on your RRSP.
Select Contribute from the left-hand menu of the RRSP Account Holdings page.
Follow the onscreen instructions to complete your transaction.
Ready to Invest?
Open or contribute to your RRSP today!
View Legal DisclaimersHide Legal Disclaimers
1)
You can withdraw up to $35,000 from your RRSP to buy your first home under the Home Buyers' Plan. The funds must have been on deposit at least 90 days before you withdrew them, and a signed agreement to buy or build a qualifying home is required. At least 1/15 of the funds must be repaid each year, beginning two years after the funds were withdrawn. For details see Canada Revenue Agency Home Buyers' Plan.
2)
Under the Lifelong Learning Plan, you can withdraw up to $10,000 per calendar year for your own or your spouse's full–time training or post–secondary education. The total amount that can be withdrawn is $20,000 each with withdrawals over a maximum of four consecutive years. At least 10% of the amount borrowed must be repaid each year, over a maximum period of 10 years.
3)
The accuracy of the calculations set out in this calculator are based on the accuracy and completeness of the data you have provided, and are for illustration purposes only. You should speak with your RBC advisor before making any decision based on the information in this calculator to consider whether a course of action meets your overall financial needs and that your specific circumstances have been taken into account. This calculator does not represent or replace a comprehensive financial plan or represent any type of financial planning service. The scope of this analysis is limited to one aspect of your financial goals.
Royal Bank of Canada and Royal Mutual Funds Inc. (RMFI) make no warranties, express or implied, as to the accuracy or completeness of the information contained herein.
Royal Bank of Canada and RMFI shall not be liable for any losses or damages arising from any errors or omissions in information contained in this calculator.
Financial planning and investment advice are provided by RMFI. RMFI, RBC Global Asset Management Inc., Royal Bank of Canada, Royal Trust Corporation of Canada and The Royal Trust Company are separate corporate entities which are affiliated. RMFI is licensed as a financial services firm in the province of Quebec