NOMI Insights
NOMI helps you manage your everyday finances by providing you with timely and personalized trends, alerts and overviews based on your spending and saving habits.
Summarizes your everyday banking activity across all your accounts

– including credit cards! NOMI knows when the refund you made yesterday has finally been received or if your hydro bill will be coming in higher than usual this month.

Let you know when there has been new or unusual activity.

Remember that gym membership auto-renewal you signed up for? Well NOMI knows that, and will even notify you if they've increased your fees this year.

Categorize your spending, with easy-to-understand overviews

and deep dives to help you stay on the right financial track.
and so much more!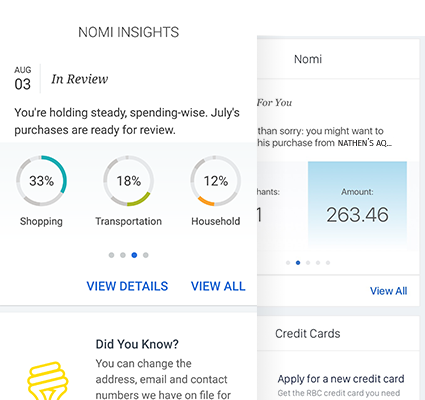 NOMI Find & Save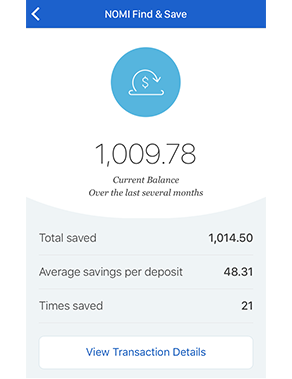 Using predictive technology, NOMI Find & Save does all the work for you, so you can save money without lifting a finger.
It will learn your transaction patterns, find those extra dollars that it thinks you won't miss, and then set them aside for you automatically.
You can always move your money out of NOMI Find & Save at any time.
You will receive notifications when transfers occur so you are always informed.
NOMI finds and you save - it's that simple!
NOMI Smart Balance
Smart Balance takes your account balance beyond just a number, telling you how much money is available at any given time.
Calculates what you have left. Using an analysis of your regular withdrawals, transfers and expenses, Smart Balance will give you a reliable estimate of how much is left in your account before you get paid next.
Eliminates manual calculations – and the mental math you're used to doing to figure out how much you can spend without going into overdraft. You'll see how the Smart Balance is calculated too, so you can feel confident in the numbers.
Updates in real-time. Your Smart Balance is recalculated every time your paycheque is deposited into your account, so you have an up-to-date amount to work with.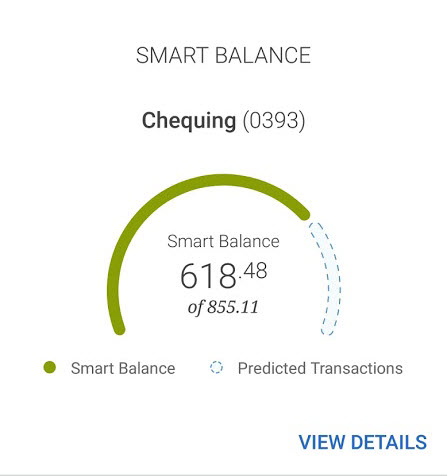 Your Money & Information is Always Safe
RBC Secure Banking Guarantee+ to disclaimer
Should something ever happen, we will fully reimburse you for any unauthorized transactions made through the RBC Mobile app or RBC Online Banking.
We Don't Share Your Information
At RBC, we are dedicated to protecting your privacy and safeguarding your information and accounts. Your insights are never shared and are for your personal use only.
Learn about privacy & security at RBC
Highest in Customer Satisfaction among Canadian Mobile Banking Apps, Two Years in a Row
The RBC Mobile app was awarded the 'Highest in Customer Satisfaction Among Canadian Mobile Banking Apps' in the J.D. Power 2018 Canadian Mobile Banking App study1 to disclaimer.
Read the full story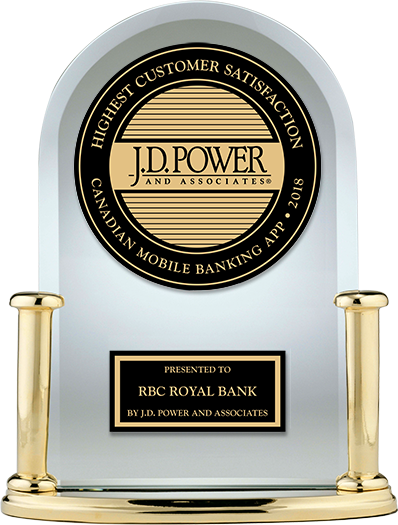 iPhone, iPad, and iOS are trademarks of Apple Inc., registered in the U.S and other countries. App Store is a service mark of Apple Inc.
Android and Google Play are trademarks of Google Inc. Samsung Galaxy S III and Samsung Galaxy S4 are trademarks of Samsung Electronics Canada, Inc. and/or its related entities used with permission.
+
For a definition of an unauthorized transaction and for full details regarding the protections and limitations of the RBC Online Banking Security Guarantee, please see your Electronic Access Agreement. This guarantee is given by Royal Bank of Canada in connection with its Online Banking service.
1)
RBC Royal Bank received the highest score in the 2017-2018 Canadian Banking App Satisfaction Studies and among Big Five Retail Banks in the 2016-2018 Canadian Retail Banking Satisfaction Studies of customers' satisfaction. Visit
jdpower.com/awards
.
2)
RBC Mobile and RBC Online Banking are operated by Royal Bank of Canada, RBC Direct Investing Inc. and RBC Dominion Securities Inc.