Do you know how it happens?
Some of the ways identity thieves can steal your personal information is through: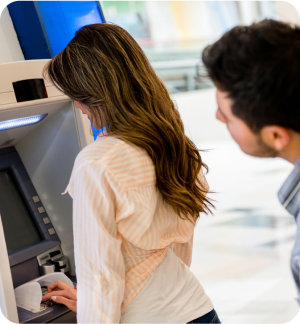 Skimming
Thieves tamper with ATMs and point of sale terminals to get your financial information with just a few pushes of a button.
Shoulder Surfing
Someone standing too close for comfort? Simply looking over your shoulder can help thieves get what they need to put you at risk.
Phishing
Phishing emails usually look authentic but ask for sensitive information in order to commit fraud. Even if it looks like it's from a trusted source, don't be fooled – it could be a scam.
Dumpster Diving
Think twice about your bills and other documents that end up in the trash – they may have enough important information for fraudsters to get a taste of your identity.
Online Fraud and Credit Monitoring
Recognizing the signs of identity theft may help protect you from becoming a victim, but sometimes, it may not be enough. To help minimize your risk, consider safeguarding against identity theft with an online fraud service. As an RBC client, you have access to FirstReport-ID and FirstReport-AdvantageDisclaimer2 free for 30 days, providing you with:
24/7 Online Identity Monitoring
Our around-the-clock system monitors public, underground and black market websites as well Canadian Credit Bureau agency files for suspicious activity related to your:
banking and credit card accounts
email address
Social Insurance Number
driver's licence and passport numbers
phone numbers
credit bureau files
Credit Score & Credit Report
Stay in the know with quarterly credit reports from Equifax Canada. You'll get an in-depth look at your finances, see how and why your credit history has changed, and get a snapshot of your financial health.
Historical Alert Scan
Get a detailed report on your financial history with highlights of any suspicious activity, even it happened months or even up to 10 years ago.
SMS & Email Alerts
Daily alerts let you know about any suspicious activity, to help you stay on top of changes and minimize any damage.
Restoring Your Identity
If you're a victim of identity theft or financial fraud, FirstReport-Advantage is available to help with step-by-step support, legal advice, emergency cash assistance and changes to your pre-authorized payments.
Sign Up For Your 30 Day Free Trial
FirstReportTM runs on technology that safeguards more than 500,000Disclaimer2 Canadians against identity theft and online fraud. All first-time FirstReport customers can take advantage of a free 30 day trial today.
You may also be interested in:
Discover Other Optional Add-On Services
RBC Travel Insurance
Check the travel coverage included with your card, plus optional travel protection you can add-on.
BalanceProtector Premier Plus
Get coverage for your credit card balance in the event of the unexpected.
View Legal DisclaimersHide Legal Disclaimers
2)
2021 Sigma Loyalty Group Inc. All rights reserved.
©
2021 Sigma Loyalty Group Inc. All rights reserved. FirstReport™, Sigma Loyalty Group Inc. and all associated marks and logos are trademarks owned or used under license. FirstReport is provided by Sigma Loyalty Group Inc.