Ready to purchase your first vehicle here? We can help guide you!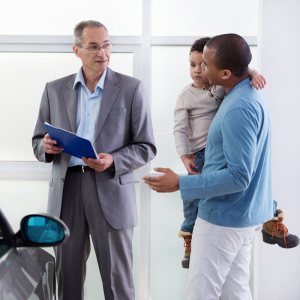 Car-Buying Checklist for Newcomers96
One of the first big purchases you're likely to make after settling in Canada is a car. Here are some things you can do (and ways we can help) to make your car-buying experience a positive one:
Ensure you have a Valid Driver's License.
As a Newcomer looking to drive in Canada, you want to ensure you have a valid driver's license so you can legally drive here. In some provinces it is strictly required to have a Canadian license – in others, you may be able to drive with your International Driving Permit. Check with the government of your province or territory for details: https://www.canada.ca/en/immigration-refugees-citizenship/services/new-immigrants/new-life-canada/driving.html
---
Research vehicles online.
Visit the websites for car dealerships and other car-buying resources to compare the features, pricing and consumer reviews of vehicles so that you can narrow down your top choices before you start shopping.
A vehicle history report can also be purchased to assist with your decision. Such reports can be highly beneficial as they provide information about accident history and safety recalls for used vehicles.
---
Decide whether you want a car loan or a lease.
In Canada, people typically borrow money to buy a vehicle. Two of the most common financing options are taking out a loan or signing a lease.
With a loan, you can borrow up to 100% of a vehicle's purchase price. When the loan is paid off, you own the car.

With a lease, it may be a good option if you want to get a new car every two to three years. Once the lease is complete, the car is returned to the dealership.
Think about how you'll use your vehicle and what you can afford. Here are some things to consider to help make the decision easier38:
Car Loan
A loan may be a good option if you plan to drive your car a lot or want to keep it for five years or longer.
Here's how it works:
You can apply for an RBC car loan at over 4,500 dealerships.40
Repay your loan over a set time frame, typically one to five years.

Pay back some or the full amount you borrowed at anytime.

At RBC, you may be eligible for a loan with no Canadian credit history!4
Lease
A lease may be a good option if you want to get a new car every two or three years.
Here's how it works:
You pay a monthly amount to a leasing company for a specific term, typically one to five years. At the end of the term, you return the car to the dealer or buy it at the price listed in your lease agreement.
Often there is a maximum number of kilometres you can drive a leased vehicle per year, after which you may be charged for extra kilometres.

The vehicle must be serviced regularly

There are penalties if you break your lease before the end of the term
---
Know what you can afford for a monthly car payment.
Before you visit car dealerships, it's a good idea to get a general idea of how much you can afford and what your car payments will be. (Be sure to also factor in the costs of fuel, insurance, parts and maintenance when deciding what you can afford.) Try our quick calculator now to estimate your car loan payments
Make as large a down payment as you can to lower your monthly payments.

Make prepayments whenever possible. Even a small lump-sum payment, or slight increase in your regular payments, can make a big difference in interest savings over the loan term.
Maintenance costs vary depending on the type of vehicle you choose. Keep the following in mind:
New vehicles are more expensive at first, but typically have lower maintenance costs.

Used vehicles are cheaper, but depending on the mileage and other considerations, might require you to spend more on maintenance and repairs.

Hybrid & Electric vehicles, while typically more costly, can lead to savings on fuel and emit fewer emissions while operating compared to an internal combustion engine. There may be government incentives available to you if you are looking into a hybrid or electric vehicle. To read more about hybrid & electric vehicles click here: https://www.rbcroyalbank.com/car-loans/electric-vehicles.html
---
Get a car insurance quote.
To own and operate a car in Canada, you must have car insurance to protect yourself financially against certain risks. Automobile insurance protects you, your vehicle and third parties in the event of a theft or accident. There are different types of plans available and the cost is dependent on the plan you choose, as well as your age, driving record, living location and driving experience. It is advisable to shop around for the best rate!
---
Test drive different vehicles.
Test driving your vehicle is crucial in finding the best value in your vehicle, especially for used vehicles.
---
Ask for RBC.
Once you know the vehicle you want and have negotiated a price, ask your dealer for an RBC car loan. You can apply for our financing at over 4,500 dealerships — no Canadian credit history required!4
The RBC Newcomer Advantage

Get what you need for a great financial start in Canada. Discover products and services that can help you settle in faster. Plus, get up to a $15,000 credit limit on a new RBC credit card9.
How to Apply for an RBC Car Loan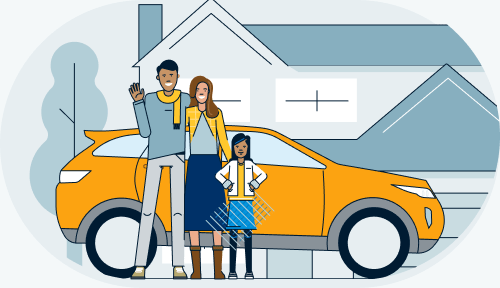 Let us help you buy your first car in Canada and get on the road faster!
Ask for RBC financing at over 4,500 dealerships.
Visit any of our trusted partner dealers

Test drive a new or used car

Discover dealer incentives

Apply for financing onsite