We can help answer your questions about banking in Canada.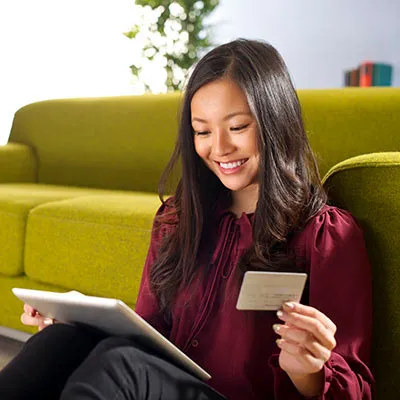 What You Need to Know

Whether you're already in Canada or haven't moved yet, you probably have many questions about the banking products that are available to you. We've put together the following information to help you settle in faster and get familiar with the basics.
Types of Bank Accounts in Canada
A chequing account and a savings account are the two most common types of personal bank accounts in Canada. As a newcomer here, you will most likely want to have both accounts.
Chequing Account
Designed for day-to-day banking, paying bills, making purchases, etc.

Deposit and withdraw your money at any time

Account balances do not usually earn interest
Opening a chequing account is one of the first things you should do when you arrive (or before you get here) so that you have convenient access to your money (and a safe place to keep it).
At RBC, you can choose from several chequing accounts. Whether you plan to live in Canada permanently, start a business, study as an international student, or work for a few years, we have an account for you.
---
Savings Account
Ideal for money you don't need access to every day

Account balances earn interest

Easily access your money when you need it
We offer a number of savings accounts, including the RBC High Interest eSavings account, available in both Canadian and U.S. dollars.
---
Tip: If your employer offers payroll deposit, set this up on your account so you can access your money as soon as it's deposited.
Using a Debit Card (or Client Card)
When you open your bank account, you will receive a debit card. At RBC, we call this the RBC Royal Bank Client Card. It lets you conveniently and securely access your money from bank branches and ATMs; at retailers and stores; and through online, mobile and telephone banking.
Daily Withdrawal Limits
While you can always access all your money at an RBC Royal Bank branch, in order to protect your funds, we set a daily limit on withdrawals made at ATMs, purchases at retailers and transactions through RBC Online Banking. Your RBC advisor will tell you about your daily debit limits when you receive your Client Card.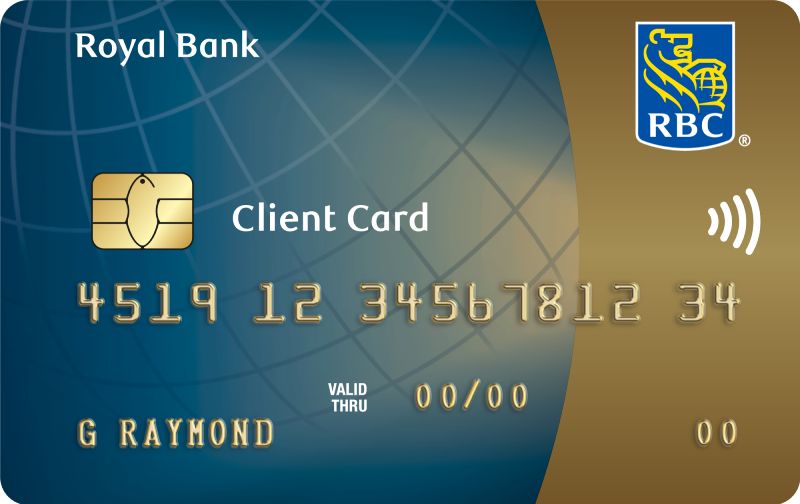 How Cheques Work in Canada
Writing a cheque is a convenient way to make a payment from your account when cash, debit, or a credit card isn't an option. (For example, you may have to pay your rent by cheque.)
Many of our bank accounts include cheques for free—and you can order them online or at your branch.
Tip: You may be able to use a cheque as identification and proof of your address when you're setting up utilities and other services.
Understanding Cheque Holds
When you deposit a cheque at a bank in Canada, a hold may be placed on it, which means the funds will appear in your account, but you can't access them right away. This is to ensure that the person who wrote the cheque has enough funds to cover the payment.
Hold Length for Different Cheque Types
| Type of Cheque | Length of Hold |
| --- | --- |
| Cheque from an account at a Canadian branch from any Canadian financial institution. | Up to 4 business days68 |
| Cheque payable from a U.S. bank account. | Up to 15 business days69 |
| Cheque payable from a bank account outside Canada and the U.S. | Up to 25 business days70 |
Tip: To cash a cheque, you may need to give your phone number and show photo identification.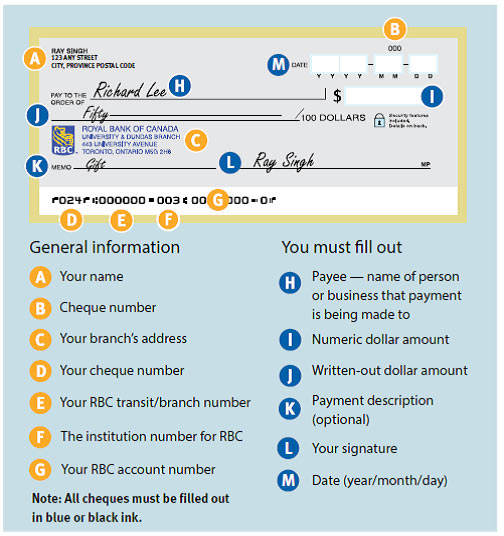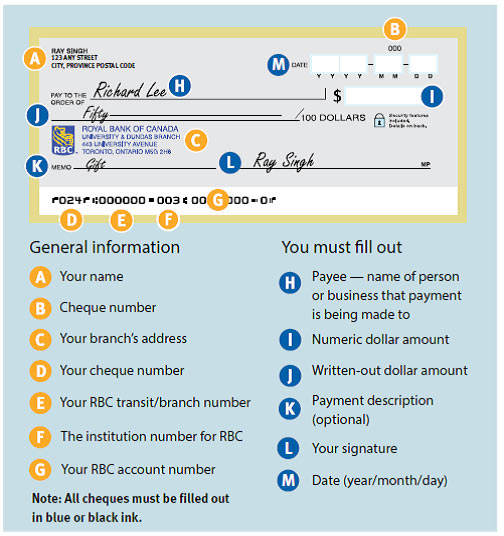 Ways to Access Your Accounts
As an RBC Royal Bank client, you will have many safe and secure ways to access the money in your bank account. Here are a few of the most common ways:
Online, Telephone and Mobile Banking25
Check your account balances, transfer funds between accounts, send money to others and pay bills 24 hours a day, from anywhere using online, telephone and mobile banking.
---
ATMs (Automated Teller Machine/Bank Machine)
RBC has over 4,200 ATMs across Canada. In addition to being located at bank branches, our ATMs are in shopping malls, airports, gas stations and many other places.
Simply use your RBC Royal Bank Client Card at any RBC ATM to access your money. (You can also access your account from other banks' ATMs, but there may be a fee to use that ATM.)
---
---
Explore more of the convenient ways to bank at RBC.
The RBC Newcomer Advantage

Get what you need for a great financial start in Canada. Discover products and services that can help you settle in faster. Plus, get up to a $15,000 credit limit on a new RBC credit card9.
We Have the Right Account for You
How Can We Help You?
We understand that moving to a new country comes with many challenges–let us help answer any questions you may have. Our phone services are available in up to 200 languages.
Call to book an appointment to open a bank account over the phone or by video conference.
Call Toll-Free: 1-866-756-1107
Call Collect: 1-506-864-2275