Worry Less, Sleep Better. Tools to Get Things off Your Mind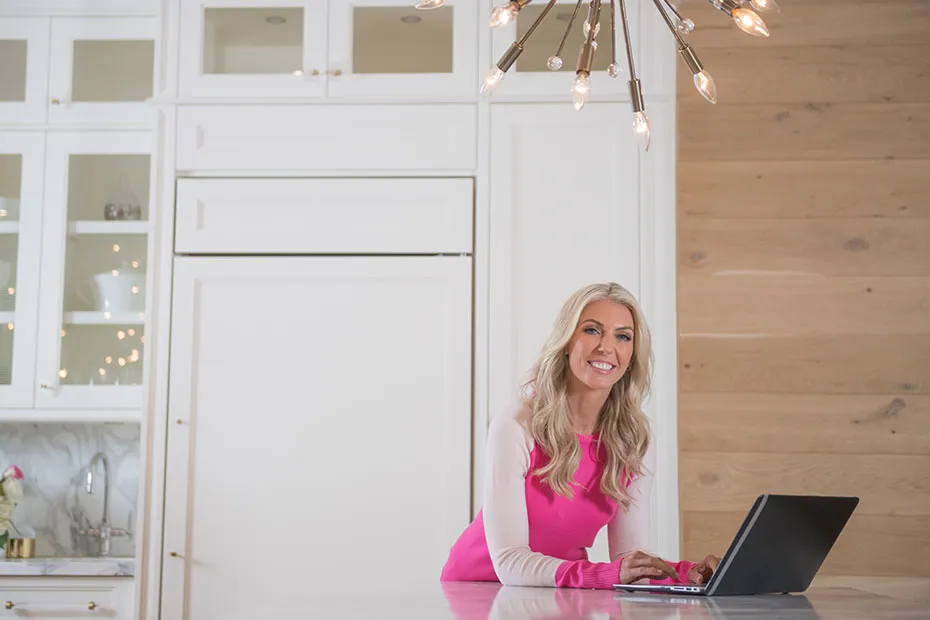 PUBLISHED October 2, 2019 • 4 min read
The pace of day-to-day life and what feels like life's increasing obligations can lead to stress and may even give some sleepless nights. Fortunately, a new crop of digital tools can help take care of many of those little worries.
Sarah Baeumler, HGTV Canada star and self-proclaimed worry-wart, shared how digital tools have helped her wipe sleep-limiting worries off her mind, free up more time in her day, and multi-task in a more efficient and productive way.
Here are eight tools that may help cut down on those 3 a.m. worries — big or small.
1. Pre-authorized Bill Payment
Bills may be the number one cause of sleepless nights, because they never stop. If you're not on top of them, they can pile up, slip past the due date, and become a real problem. Pre-authorized bill payment takes the worry out of remembering to pay your bills, as on or before the due date, the money comes out of your account or off your credit card. You can sign up with the biller (e.g., your internet provider, electricity company, or the city), or set up advance bill pay through your bank.
2. Mobile Bill Pay
For those bills you don't have on a pre-set schedule, mobile bill pay may be an ideal way to stay on top of them. Just remembered your cell phone bill is due tomorrow? Whether you're at the grocery store, in a meeting, or at your child's ballet lesson, you can pay your bill in an instant through your bank's mobile app.
3. Reminder Apps
Life is full of distractions, and it's easy for the day's to-dos to slip your mind … only to pop into our heads in the middle of the night. Reminder apps can help you stay on top of what needs to get done through digital calendars, task lists, and notifications when it's time to take care of business.
On the iPhone, the native Reminders app is a simple way to keep track of your to-do list and is perfect for projects, groceries, and anything else you want to track. You can even choose when and where to receive your reminders.
For Android users, there is a variety of apps that can keep you up-to-date — from the simple yet effective BZ Reminder to the Ike To Do List that prioritizes tasks for you based on the importance and deadlines you've assigned to them. Other apps such as TickTick are great for a household environment where multiple people use it to keep track of family to-dos.
4. Autodeposit
Canadians have embraced sending money electronically. In 2018, the Interac e-Transfer service was used, on average, 1 million times a day and over 35 million times a month1. It's even easier these days to send and receive through Interac these days, thanks to Autodeposit, as there's no need to log into your Online Banking or answer a security question to receive an e-Transfer. Once you register your e-mail or mobile phone number, anytime someone sends you money, the funds will be automatically deposited into the specified account.
5. Audio Books
Studies show that reading for enjoyment — even for a few minutes per day — can reduce stress significantly, boost general well-being and reduce symptoms of depression.2 But you may be thinking, "Who has time to read?" Enter audio books. Audio book apps such as Audible, Google Play Books or Apple's Audiobooks let you stream or download from an extensive library of books, which you can listen to anywhere, anytime. During a quick break from work, on your commute, while making dinner, or walking the dog — it's a perfect way to get your reading in and take stress levels down.
How does Sarah Baeumler use digital tools to wipe things off her to-do list? See how she uses the RBC Mobile app to not just pay her day-to-day bills, but set up new bills in a snap.
Sources:
1. Use of Interac e-Transfer service surges in 2018.
2. Reading for pleasure builds empathy and improves wellbeing, research from The Reading Agency finds
This article is intended as general information only and is not to be relied upon as constituting legal, financial or other professional advice. A professional advisor should be consulted regarding your specific situation. Information presented is believed to be factual and up-to-date but we do not guarantee its accuracy and it should not be regarded as a complete analysis of the subjects discussed. All expressions of opinion reflect the judgment of the authors as of the date of publication and are subject to change. No endorsement of any third parties or their advice, opinions, information, products or services is expressly given or implied by Royal Bank of Canada or any of its affiliates.
Share This Article