How to Find the Right Contractor for Your Renovation: Bryan and Sarah Baeumler Share Four Tips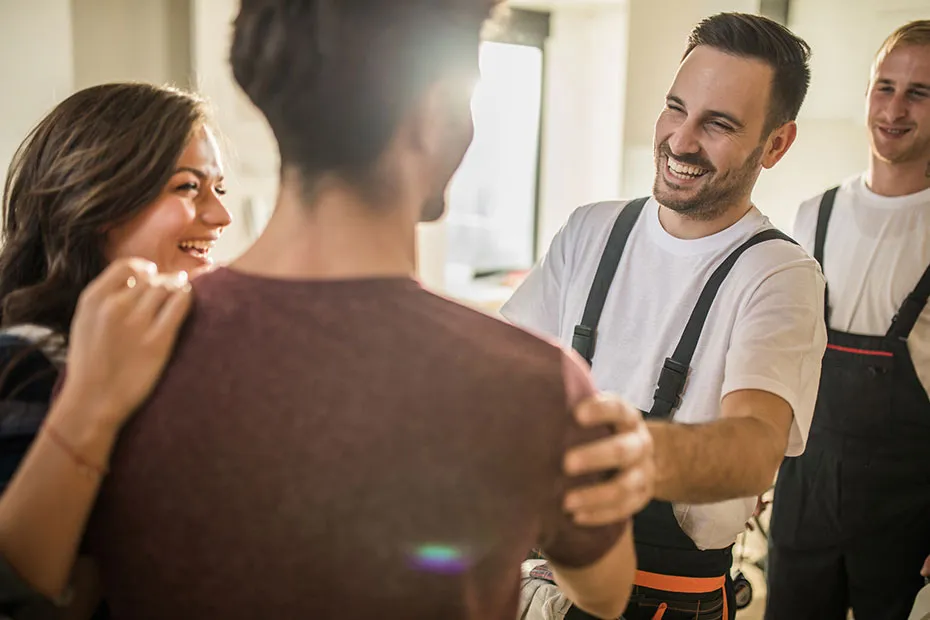 PUBLISHED October 23, 2018 • 4 min read
When you're going through a renovation, a good relationship with your contractor can be critical — after all, you can be spending anywhere from a few weeks to more than a year with this person. So you need a contractor you can trust, who can effectively navigate through the unexpected, and who respects your ideas, opinions and your budget.
HGTV Canada's Bryan and Sarah Baeumler — with years of contracting experience between them — stress the importance of finding not just a good contractor, but the right contractor.
Sarah points out, "There may be ten different contractors out there, but only one of them is right for you. You have to find somebody who works well with you. Just because he did a great job somewhere, doesn't mean he's going to do a great one for you.
Here are four tips Bryan and Sarah share about finding and choosing your contractor:
1. Interview Potential Contractors.
You can't base your decision solely on letters of recommendation (the contractor isn't going to give you unhappy client reviews anyway). References alone will not tell you the whole story, so be sure you have conversations with contractors you are considering, and ask some tough and pointed questions. Here are a few of the basics to start with:
How long have you been in business?

What's your area of expertise?

Are you licensed and insured?

How many projects are you currently working on?

Can I go see a project that's underway

Will you look after permits and purchases — or will I?

When and how do I pay you?

What happens when the work is done? Do you clean up? Provide after-service?
2. Ask for Trade References.
Who's their flooring guy? Who do they order their tiles from? Where do they buy sinks and faucets? Knowing that your contractor is making large orders from reputable companies — and not just going to the hardware store for supplies — is an important fact to know. Talking to the tradespeople could also give you a good sense for the contractor's demeanour, work ethic, timeliness, and fiscal responsibility.
3. Do a Walk Around Your House with a Contractor.
Do they point out what can be done, and what should be done? Do they have great ideas about how to improve your space? Do they listen to your ideas? Bryan says that if you still have questions after spending an hour or two with a contractor, they might not be right for you. A good contractor should be able to think on their feet, offer thoughts and suggestions proactively, and have a keen eye for necessary work.
4. Give Points for personality.
You need to be able to communicate with your contractor, set guidelines about making decisions and agree on how the process will work. It's even a good idea to cut to the chase and talk about what happens if things go wrong. How do they handle disputes or deal with the unexpected? Will you be able to have a reasonable conversation with them in the face of a fresh challenge?
It's also more important than you might think to have an amicable connection with your contractor. You don't want to start a project with someone you find rude, disrespectful, or someone you just don't like. You're in this for the long haul, and you need a partner you can work with.
"I've always said that hiring a contractor is the same as courting a beautiful lady and getting married," Bryan says. "In the beginning it's all fun and you're talking about future plans, but at some point you're gong to sit down and sign a contract (and there are legal rules and regulations) — and everything is great while the relationship is happy. But when it goes sideways, it can get messy and potentially costly."
Renovations aren't always the smoothest of projects — surprises will pop up, budgets will be challenged, and your patience will be stretched. While you need a contractor who covers the basics — is skilled, ethical, experienced and insured — you also need to find an individual with whom who you can feel comfortable working. A contractor who is professional, cool under pressure, and can effectively explain issues, next steps and ideas, will give you confidence that your reno is in good hands.
Thinking of starting a home renovation? Learn more about some of the RBC options available to help fund your project.
This article is intended as general information only and is not to be relied upon as constituting legal, financial or other professional advice. A professional advisor should be consulted regarding your specific situation. Information presented is believed to be factual and up-to-date but we do not guarantee its accuracy and it should not be regarded as a complete analysis of the subjects discussed. All expressions of opinion reflect the judgment of the authors as of the date of publication and are subject to change. No endorsement of any third parties or their advice, opinions, information, products or services is expressly given or implied by Royal Bank of Canada or any of its affiliates.
Share This Article