7 Ways to Attract and Hire Employees in a Tight Labour Market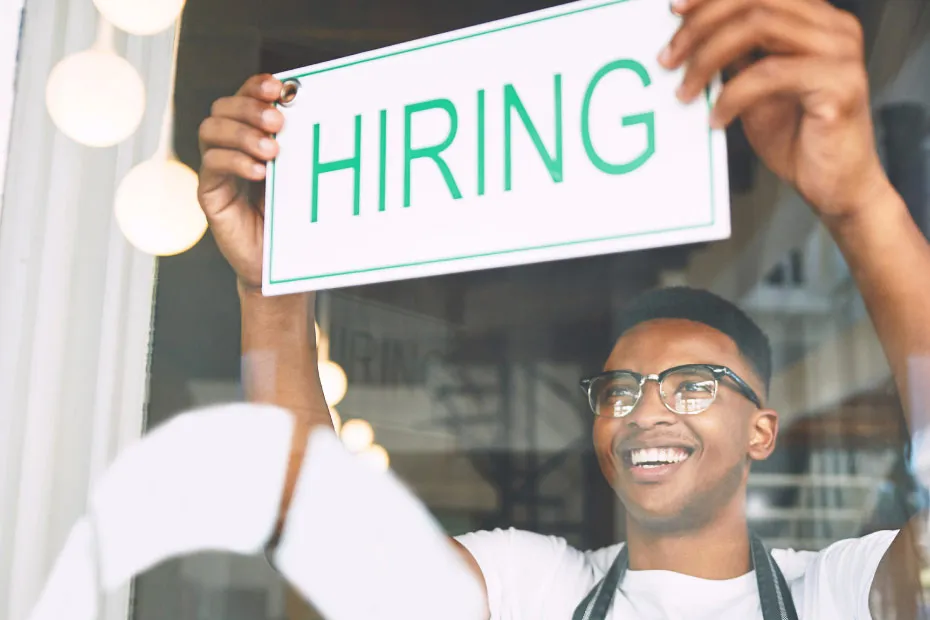 PUBLISHED August 3, 2021 • 7 min read
According to a recent RBC Economics Report, difficulties in attracting and retaining qualified workers has become the top concern for Canadian businesses as the country emerges from the pandemic. The job open rate – which is at levels not seen since the mid-1990s – is fuelled by several factors but is exacerbated by post-pandemic temptation and opportunity. For example, workers who remained static amid the uncertainty of the pandemic are considering moves they may have put on hold – during the pandemic, retirements fell 20% compared to pre-pandemic levels, and the number of people quitting jobs due to job satisfaction dropped 40%. Today, the number of job quitters is returning to pre-pandemic levels and approximately 125,000 people are expected to retire in the second half of 2021.
To help small businesses address rising labour shortages, RBC has called on the experts to share tips for attracting and hiring the right people within the current environment.
1. Offer flexible work arrangements
One of the key criteria that have come out of the pandemic is the need for flexibility in the workday – particularly in the early days post-pandemic. "We've seen that it is still possible to run a business even if everyone is not in the office," says Ann Buckingham, Executive HR Relationship Manager with ADP Canada.
"When there was once a theory that if you're not in the office you're not working, that has been thrown out the window. Being open to offering an alternative to the traditional 9-5 workday will be important to job seekers."
Joanne Acri, Co-founder, Junction Collective echoes Buckingham's perspective. "The number one question from candidates at every level – even before salary – is about the return to the office policy," she says. "Not one person is looking to go back to an office full-time in any capacity. Many employers are unsure how to manage this and are still developing new protocols for teams to be able to work together both virtually and in an office."
2. Showcase your values to emerge as an employer of choice
When the labour market is tight, it's important to stand out as a preferred employer among those considering moves. "People have a lot of choices these days," says Buckingham. "They're not going to take the first job that comes around anymore. It's therefore important for companies to stay competitive and attract the right people."
To do that, businesses will need to be open and transparent about policies and practices that matter to the current generation of workers, such as diversity, equity and inclusion.
Younger workers (those aged 18-34) in particular are attentive to company practices, with 50% of respondents to a recent ADP study saying they would leave their organization if they found out that a colleague of equal standing but different gender received higher compensation. Nearly as many (47%) said they would feel more loyal to an organization if it publicly took a stand on diversity and inclusion.
Buckingham suggests highlighting your policies within job advertisements, on your website or reinforcing them through media and/or social media efforts, which will allow potential future employees to understand your company's values before they apply.
3. Offer competitive pay and perks
While larger companies may seem to have an advantage when it comes to hiring talent – given their capacity to offer slick benefits packages and attractive salaries – there are solutions out there that cater to small business owners.
"One way employers, even small business owners, can stay competitive is to offer financial wellness and savings programs," explains Doug Crowe, Vice President, RBC Group Advantage. "A study found 81% of employees have taken time off work due to financial stress, so it pays to support your staff with value-added financial programs. Viewing these programs, such as RBC Group Advantage, as an integral part of your employees' total compensation package is a key strategy to attract and retain top talent. Offering meaningful benefits also becomes a reflection of your company's mission and values."
What's more, one of the themes that has emerged top of the list among job seekers today is a company's approach to mental health and wellbeing. They want to know that their company has their best interests in mind, will address issues head-on and support them with their wellness needs. Keeping up with mental wellness levels and offering flexibility, dedicated mental health benefits and access to support is something that small businesses can do just as well as large organizations.
4. Use technology to simplify recruiting
The hiring and recruiting process can be a tedious, time-consuming process, particularly for small businesses that may not have dedicated resources to take the task on full-time. Fortunately, there are some tools that can help. For instance, there is a real emergence of Artificial Intelligence (AI) and recruitment technology being used in the hiring process, from candidate sourcing, screening to interviews.
As an example, resume screening through AI can identify traits to predict which candidates would be a good fit for your organization. It can also screen for specific qualifications or designations that might be prerequisites for a role, and provide objective, unbiased candidate assessment (which can also improve the diversity of the candidate pool).
"The days of getting 400 resumes in and painstakingly sitting there and manually going through every single one is something of the past," explains Buckingham. "And because technology can remove bias in early stages of recruitment, it can really level the playing field." What's more, video interviewing, which has allowed businesses to hire during the pandemic, will likely continue into the future as another assessment tool.
Because many online recruitment companies have AI and video screening built into their platforms, small businesses can easily take advantage of these advancements without a hit to their bottom line.
5. Connect with untapped talent pools
While the labour market is tightening, there are still talent pools that aren't reaching their full potential. Recruiters can find different kinds of talent by being broadening their reach to candidates of all backgrounds and connecting with new types of educational programs. Women, members of the BIPOC community, people with disabilities and veterans who are entering the civilian workforce are some underutilized talent pools that can – and should – be explored.
6. Go back to "resumes on file"
'We'll keep your resume on file' is a refrain many job seekers have heard in the past when turned down for a position. But if you have in fact kept resumes worth a future look on file, now might be the time to go back to them. There are even applicant tracking systems that go back to a candidate that wasn't right for a particular role, but has qualifications that might work for a new one.
7. Hire for fit and train well (versus hiring a resume)
If you're finding it hard to check all the boxes as you look to hire, it's worth figuring out what you can let slide, and what you can't. In Buckingham's opinion, it's more important to hire for fit than experience whenever possible. "If you have two candidates who are fairly close, my preference is to always go for the candidate that is a better fit for your organization. You can teach, you can upskill, but you can't change somebody's approach, demeanor or character," she says. In addition, it's important to consider that while a candidate has qualifications on paper, it doesn't necessarily mean they can execute in the real world.
Bottom Line
While labour shortages will be making headlines in the back half of 2021, there are ways small businesses can reduce the impact of a tight market. Highlighting your purpose, mission and values, using tools and technology to streamline hiring and tapping into underused talent pools can all help you build a committed and engaged workforce.
This article is intended as general information only and is not to be relied upon as constituting legal, financial or other professional advice. A professional advisor should be consulted regarding your specific situation. Information presented is believed to be factual and up-to-date but we do not guarantee its accuracy and it should not be regarded as a complete analysis of the subjects discussed. All expressions of opinion reflect the judgment of the authors as of the date of publication and are subject to change. No endorsement of any third parties or their advice, opinions, information, products or services is expressly given or implied by Royal Bank of Canada or any of its affiliates.
Share This Article