5 Tips to Create a Travel Budget and Stay on Path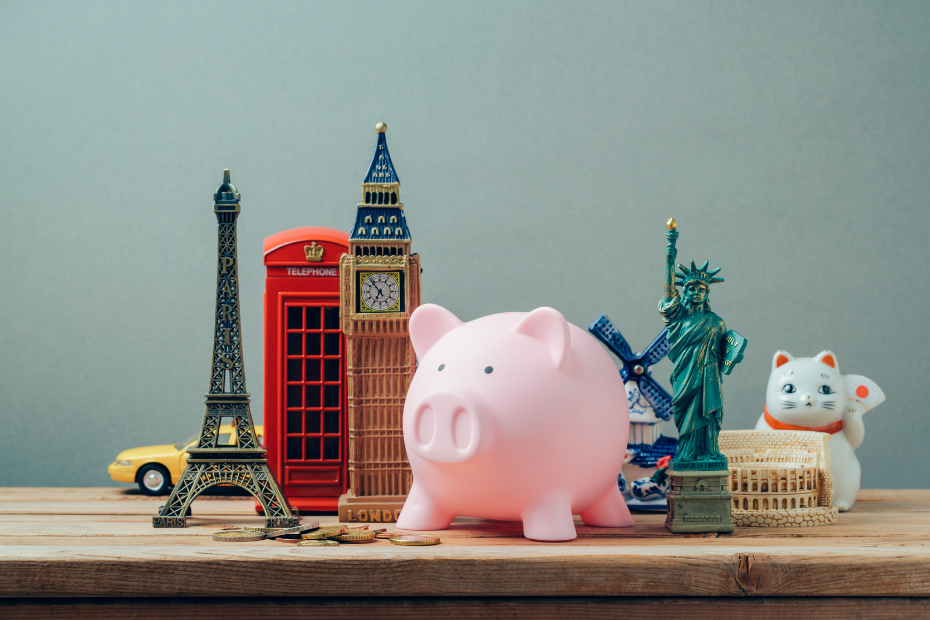 PUBLISHED August 1, 2023 • 4 min read
In many ways, travel makes you richer: When you see new places, experience new cultures and meet new people, your perspective on life and the world around you is enhanced — you gain a wealth of wisdom and experience. At the same time, travel can be expensive and having a clear perspective on your money is just as important while you're on the road. These tips can help you create and stick to a travel budget along your journey.
1. Itemize your travel costs
As you begin planning your trip and travel budget, it's a smart idea to start listing how you'll spend your money while you're away. Major expense categories include:
Transportation, such as airfare, trains, taxis and ride-share apps
Accommodation
Food
Attractions and entertainment
Clothing and gear to buy before you leave
Roaming charges
It's a good idea to create a worksheet of these items and add to them as you plan your trip. Found a concert at your destination you'd like to see? Is there a cycling tour that gets great reviews? Add them to your list as you plan.
2. Estimate costs per item
After you've made your list, it's time to add the costs of each item. If you're still in the early planning stages, these costs may be pure estimates. If that's the case, create a cost range based on your research. For instance, if you haven't finalized your travel schedule and the cost of airfare varies by date, create separate columns for the lowest and highest prices.
3. Find areas to save
After you have listed all your costs and added them together, if the total is higher than you were hoping, look for ways you can trim. This may involve booking the flights in the lower range, finding accommodations off the beaten track, cutting back on any pre-trip shopping, and pushing off with what's in your closet today. Other ideas for saving include:
Checking out discount tours: If you're looking to do a tour, many options are available. Several low-cost operators are low on frills but high on fun, catering to those who don't want to spend a fortune for a great experience.
Finding budget-friendly accommodations: such as guest houses, hostels or apartments. Steering clear of large international brands can generally save you some cash.
Eating like a local: Food stands, street vendors and local restaurants can give you a true flavour of the destination you're visiting … and spend less while you're at it. You can also consider visiting local markets and grocery stores to create your meals for a fraction of the cost of eating at a restaurant.
Getting a local SIM card: If you're like most people, you've come to rely on your smartphone for just about everything. It's how you find maps, connect with people, pay for purchases and check the news. While most data providers offer the ability to "roam like home" while away, these charges can add up — especially if you're gone for an extended period of time. A local SIM card, which you can purchase in advance from home, might end up saving you hundreds of dollars.
For more ways to save on travel, check out our article
Love to Travel but on a Budget? Save Money with These 8 Tips
4. Budget for indulgences
While you're away, chances are you'll encounter remarkable artisans and local treasures. Maybe you've found a tea seat in China, a carving in Kenya or a blanket in Bolivia … and you want to take a unique souvenir of your travels home. Instead of busting your budget, plan for something special. This way, you won't regret spending and will still be on track financially.
5. Monitor your spending digitally
Many countries worldwide increased their acceptance of digital payments and credit cards, with more and more retailers going cashless. To keep track of your money and your budget, it's a good idea to check your money regularly through online or mobile banking. Having a separate account for your travels is another good way to keep your money straight and avoid overspending. Travelling the world can provide exceptional memories and experiences for the rest of your life. And once you've caught the travel bug, you'll want to find new adventures again and again. By sticking to a budget, you might even be in a better position to travel more often and see new and different places to satisfy your wanderlust.
This article is intended as general information only and is not to be relied upon as constituting legal, financial or other professional advice. A professional advisor should be consulted regarding your specific situation. Information presented is believed to be factual and up-to-date but we do not guarantee its accuracy and it should not be regarded as a complete analysis of the subjects discussed. All expressions of opinion reflect the judgment of the authors as of the date of publication and are subject to change. No endorsement of any third parties or their advice, opinions, information, products or services is expressly given or implied by Royal Bank of Canada or any of its affiliates.
Share This Article