How Canada can Rebound From Recent International Trade Pressures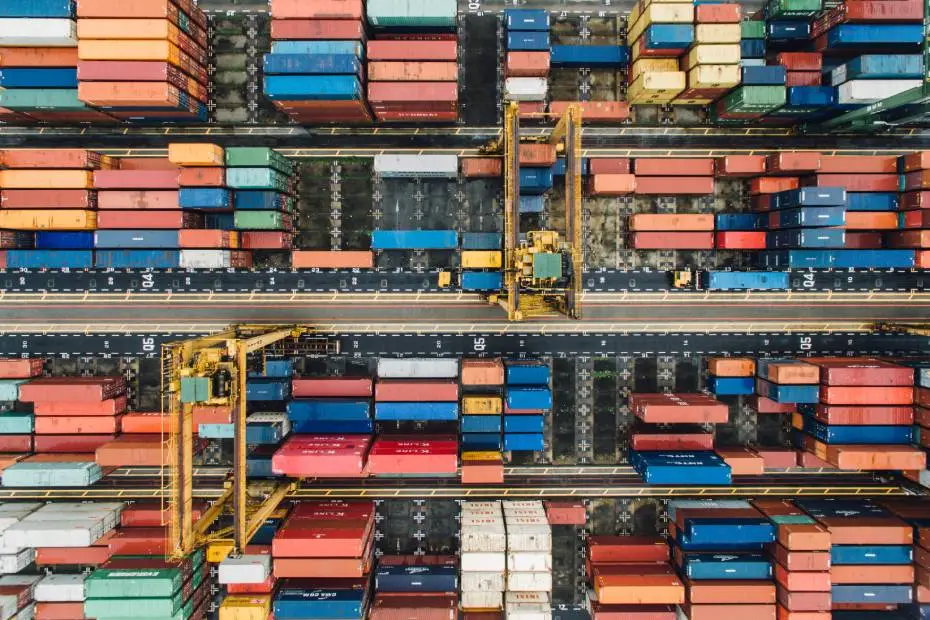 PUBLISHED March 9, 2023 • 4 min read
Canada has always been a trading nation. The international exchange of goods and services has been a critical part of the country's economy dating back centuries, from the historical fur trade to the export of resources such as timber and grain that continues today.
But even for a diversified economy like Canada's, international trade is not without risks, as the COVID-19 pandemic showed. Businesses can thrive by embracing these challenges and understanding current economic opportunities.
Trade pressures and shifting priorities
According to the Conference Board of Canada, the bottlenecks and supply shortages that were common in the early days of the COVID-19 pandemic — and which immobilized several sectors — have shown signs of easing.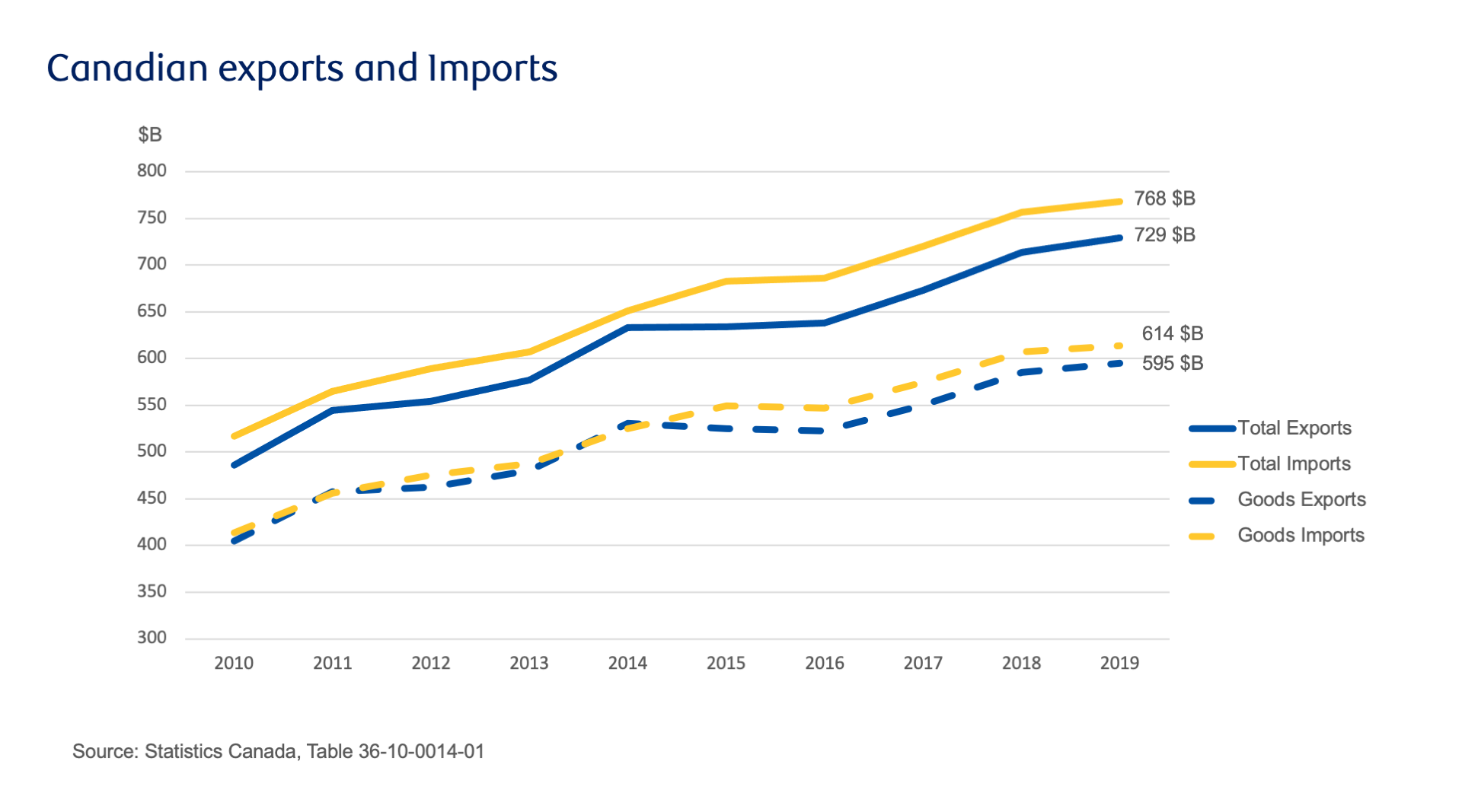 Still, predictions of a 2023 Canadian recession remain. Add in geopolitical uncertainty, the threat of further global supply chain disruptions, and high interest rates, and potential instability in the market looms.
Some of Canada's largest trading partners — including the United States, the European Union and China — have also started to re-engineer their trade policies to "serve new priorities related to national security, the environment and workers," notes Trading Places, a new report from RBC Economics.
What this looks like, in many cases, is a reshoring of production in an attempt to establish global economic dominance. While this could spell disaster for import/export businesses, there are reasons for optimism.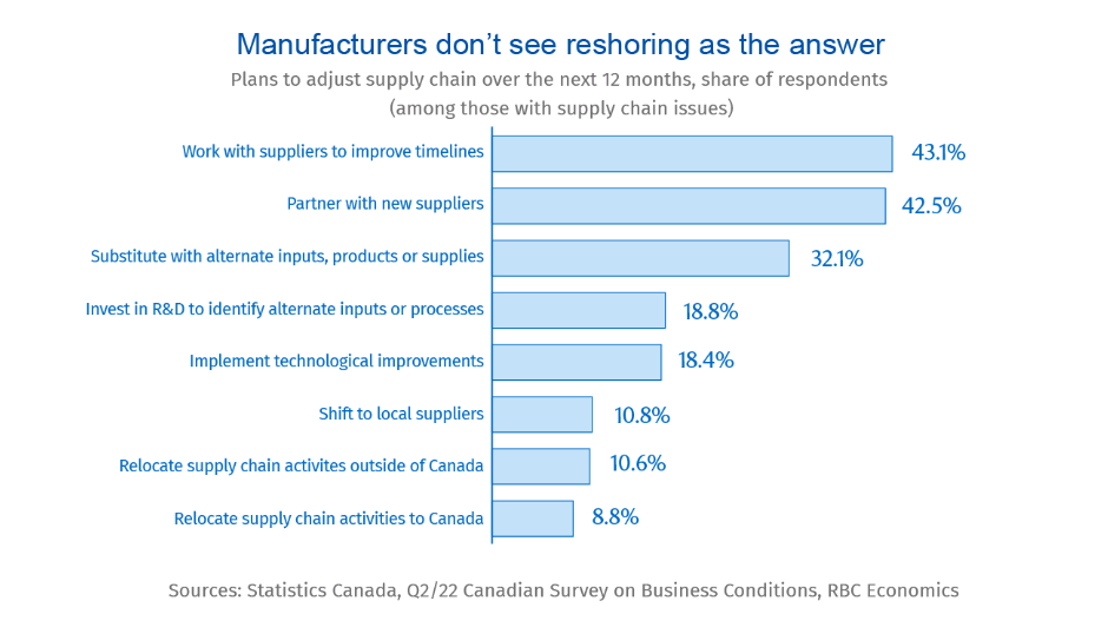 How Canada can rebound from recent losses
Canada is entering the post-coronavirus trading landscape with significant advantages.
"It has expertise in clean technologies, is deeply integrated in North American military and auto supply chains, has a free trade pact with the U.S. and Mexico, and deposits of every critical mineral used in the production of EV batteries," Trading Places highlights.
"It is a leader in AI innovation — critical to the future of autonomous and electric vehicles — producing the most patents per million people among G7 nations and China. And more than at any other time in recent years, Canada and the U.S.'s goals are aligned, as both seek to decarbonize their economies and achieve net zero emissions by 2050."
Combine all of this with the possibility of developing a new continental trade strategy – one built on supply-chain alliances with the U.S. — and Canada could start to reestablish its export sector as a key driver of growth.
According to the Trading Places report, what's needed now is for Canada to promote the work of businesses operating in emerging growth sectors. A few of those include:
Clean tech
More opportunities will emerge as the Internet of Things (IoT) dissolves the distinction between goods and services. For instance, as the importance of digital services and artificial intelligence in autos, appliances and other goods rises, so will concerns about cybersecurity and the safety of personal data — leading to more local alliances between manufacturers and software firms. Canada is a hub for AI that supports many of these IoT technologies. The number of active Canadian firms with a flagship product or service that uses AI has doubled in the past five years to 660.
Electric Vehicles (EVs)
According to RBC Capital Markets, EVs will account for around a third of global vehicle sales by 2030, up from just 4% now. The share is expected to be closer to 25% in the U.S. Given auto and auto parts production remains one of Canada's most important manufacturing sectors, accounting for nearly 1% of GDP and employing 135,000 Canadians, the country is uniquely positioned to move into this space.
Agriculture
Agriculture is another huge international trade area where Canada can increase its role in helping feed the world with fewer emissions. Canadian farmers are already among the most productive on the planet, notes RBC's recent The Next Green Revolution report, supplying $75 billion worth of food — including key crops like wheat and canola — to global markets each year.
What's next?
To be competitive, Canada will need to reassess its trade policy and investments in priority sectors (among several other things). But Canada's economy can rebound and overcome recent international trade pressures by tapping into the resources and businesses that already exist within the country and coordinating trade with long-time allies.
Want to learn more? Read Trading Places, a new report from RBC Economics.
Have questions about taking your business to the next global level? Check out RBC Global Connect. The free, online trade resource offers helpful information like market profiles and trends and tools, so you can make informed decisions about how to grow your organization strategically and efficiently. You can also connect with businesses like yours from around the world through the RBC Trade Club. Learn more here!
This article is intended as general information only and is not to be relied upon as constituting legal, financial or other professional advice. A professional advisor should be consulted regarding your specific situation. Information presented is believed to be factual and up-to-date but we do not guarantee its accuracy and it should not be regarded as a complete analysis of the subjects discussed. All expressions of opinion reflect the judgment of the authors as of the date of publication and are subject to change. No endorsement of any third parties or their advice, opinions, information, products or services is expressly given or implied by Royal Bank of Canada or any of its affiliates.
Share This Article