Thanks, Dad! How Faël's Early Money Lessons are Paying Off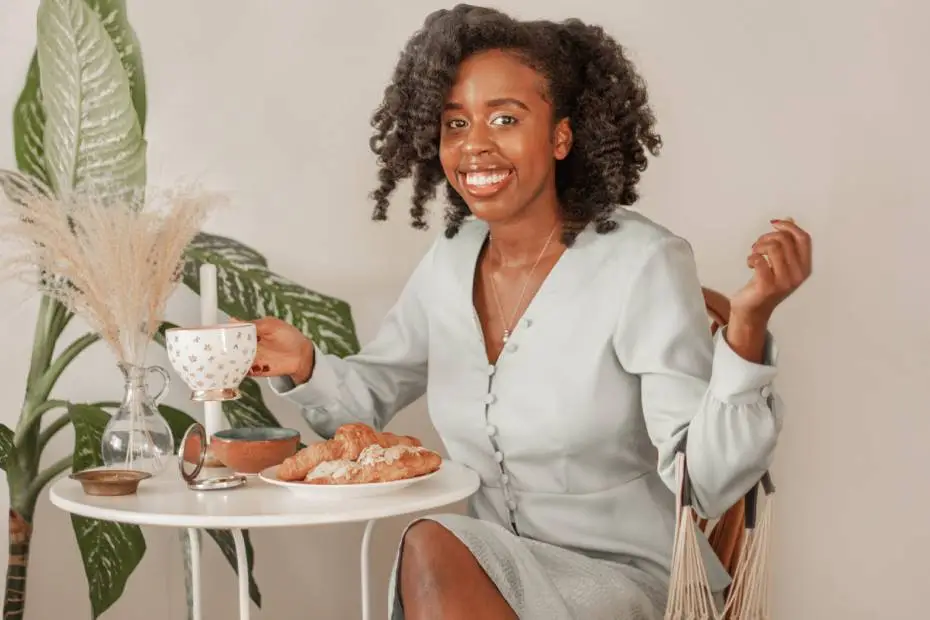 PUBLISHED May 19, 2023 • 5 min read
Ask Faël about her money philosophy and right away she gushes about her dad. "My father is a big part of my personal money story," she says. "He did a really good job teaching me about finances and making sure that I would be okay on my own."
Now a Montreal-based creative content producer, Faël is doing more than okay, thanks in part to the early money lessons from her dad. One particular lesson has stayed with her: Keep track of your money. "He taught me how to make a budget," she remembers. "And it laid the foundation for everything that I did with my money afterwards."
Why budgeting matters
When Faël's family immigrated to Canada from Haiti, managing finances became a top priority for her father. That focus trickled down to his kids. "Because of what I've learned from my parents, I felt like I had a little bit of pressure to maintain my finances at a certain level," she says. "I didn't want to put them in a bad position because of my personal choices."
From her dad, she learned the importance of budgeting, a habit that has served her well as she builds her career. But for Faël, budgeting is more than just tracking daily expenses. She also took some time to understand how taxes impact her savings. After some early research, she opened a Tax-Free Savings Account (TFSA) and a Registered Retirement Savings Plan (RRSP) when she was still a student.
Find your peace of mind
To make sensible money decisions, she has relied on discipline and planning. "I remember my dad telling me that it's important to 'pay yourself first.' That means putting a certain amount toward your savings, then looking at your needs, whether it was rent or your essentials."
She calls the rest "overflow," which she says could be invested or used as part of her discretionary spending. "If you do those things first, it feels easier to handle the rest of your finances," she explains. "I feel peace of mind when my things are taken care of."
Her freelancing income often fluctuates. Faël's antidote to that is to live the same lifestyle – even in months when her income is higher. "I really do try to live within the budget I set for myself," she says. But it's important to make room for fun and some indulgences. "I even have a chocolate budget!"
"When I first started, I wasn't budgeting for the future," she says. "I was mostly making sure that I had enough money to cover all my expenses." But as she got older and her income increased, she began looking to the future.
The meticulous approach has helped her as inflation picked up and everyday saving became more important. "If I see something on sale, you know, and I can purchase it in bulk. You'll end up spending a fraction of the cost if you were to do it otherwise. It's cost-efficient."
Talking money with friends
Budgeting gives Faël greater control over her finances, and she says talking with friends about money helps broaden her horizons.
Doing so isn't always easy, however. "Many people don't like to have conversations about money. It's emotional and everyone has a different story," Faël admits.
Turning to good friends she can trust is always a good way to start. Such conversations, she says, can spark new ideas. "When you have these kinds of conversations, it gives you permission to do more research. It also pushes you to try out different things. It just opens up your perspective about what's possible," she says. "With my good friends, we do have conversations about money here and there."
The next step: Reaching out for help
While much of Faël's learning came from her dad and social media, she has also turned to a financial advisor.
"There's a real difference in meeting with an industry professional," she explains. "They will try to understand your needs and what kind of risks you are willing to take."
Reflecting on her first meeting, Faël says she was only loosely aware that accounts like TFSAs and RRSPs are a way to put money aside and save on taxes. Sitting down with the advisor helped her learn more about these options. Such conversations also allowed her to gain greater clarity of how – and where – she's putting her money.
It's going to take time… and that's okay
Even though Faël is still young, she says part of her financial planning is to help her prepare for retirement – and what she calls "unexpected events."
If all goes according to plan, she also wants to buy a condo.
"Buying a home these days is a struggle for most people. For me, my first step is to figure out the right budget and then knowing what kind of home that I would like to have. Then I can figure out how much I need for the down payment," Faël says.
It's going to take some time to reach that goal, she admits. She knows that getting there will require work and planning, but she feels it's worth it. "Maybe I'm not going to travel a few times a year because I have that long-term vision of buying home."
Her biggest tip for others just getting started? Think long term and be patient. "I believe you can have it all, but I don't think you can have it all at the same time."
+ Disclaimer
This article is intended as general information only and is not to be relied upon as constituting legal, financial or other professional advice. A professional advisor should be consulted regarding your specific situation. Information presented is believed to be factual and up-to-date but we do not guarantee its accuracy and it should not be regarded as a complete analysis of the subjects discussed. All expressions of opinion reflect the judgment of the authors as of the date of publication and are subject to change. No endorsement of any third parties or their advice, opinions, information, products or services is expressly given or implied by Royal Bank of Canada or any of its affiliates.
Share This Article