6 Eco-Conscious Travel Tips That Can Help You Save Money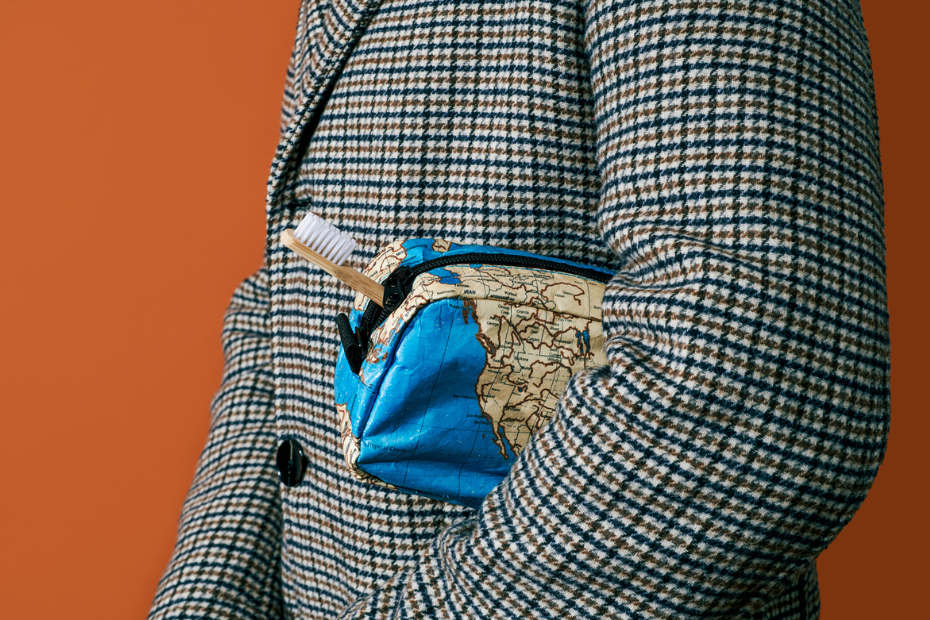 PUBLISHED May 2, 2023 • 5 min read
Travelling to explore magnificent places as a kid sparked my love of nature, from camping in Ontario forests to witnessing a hurricane in the Bahamas. Travel gives me great joy, but I'm also aware that it comes with an environmental price.
Tourism was responsible for around eight per cent of the world's carbon emissions between 2009 and 2013, according to a study published in science journal Nature. The emissions stemmed largely from flights, but also from things like powering tourist sites and the manufacturing of souvenirs.
Today, I'm still an avid traveller, but my early experiences have inspired me to make more earth-friendly choices whenever I can. Bonus: reducing the carbon load of my vacations sometimes also helps me stretch my dollar. Here's how you can tread more lightly on the planet – and your wallet – when you travel.
Choose sustainable transportation
Knowing the footprint of different transportation modes can help you choose more sustainably. Sustainable Travel International, a Seattle-based sustainable tourism consultancy, provides information to help you make those choices. For example, it notes that short flights have the heaviest carbon footprint at 255 grams of carbon dioxide (CO2) equivalent emissions per passenger kilometre. Driving alone in a medium-size gas-powered car creates 192 grams per passenger kilometre.
If you're traveling in Canada or just over the border, consider taking a train (41 grams) or bus (105 grams). Ferries (19 grams) and Eurostar international rail (6 grams) have the lightest footprints, according to Sustainable Travel's numbers. And depending where you are, and what travel options are available, it's worth comparing prices. Many times, spending a little extra time getting to your destination can lighten the load on both the environment and your wallet – and think of the scenery!
The greenest trip I ever made? I rode my bike from Toronto to New York City's Times Square. I was on a team for a five-day, 800-kilometre charity ride. It was a spectacular experience I'll never forget, but even that wasn't perfect: We flew back while our bikes headed home on a transport truck.
See more, move around less
Another way to mitigate the carbon toll of transportation is to balance longer travel-intensive vacations one year with playing tourist closer to home the next. Or stay in one place longer. When I went to Europe with friends for a wedding, we restricted ourselves to a few cities and traveled by train. This made our trip more relaxing and slightly less carbon-heavy than flying to see more. We each also pocketed several hundred dollars on transportation.
Look for green accommodations
Everyday life consumes energy whether you're at home or on vacation. Fortunately, you have a few options if you want to stay somewhere with a lighter footprint. You've probably seen certified organic produce; did you know you can look for lodgings with third-party certification for being eco-friendly? You can also search for hotels or lodges that prioritize sustainability, such as those with eco-friendly initiatives. Resorts and hotels offering modern services – especially those relying on dated and inefficient systems – may come with higher emissions than options such as a vacation rental or camping.
Camping immerses you in nature and typically costs a fraction of a night in a hotel. Campsite fees vary, but you can expect to pay about $20 per night and up for a site in Alberta or B.C.; a non-electrical campsite in an Ontario park starts at about $35 per night.
One thing that doesn't change when I travel? I'm still always conscious of energy consumption. Just like at home, we turn off lights and fans and adjust the thermostat before we leave our vacation rental property for the day.
Pack lightly
The heavier your bags, the more it can cost to schlep your luggage – whether it's extra fuel costs for a weighed-down vehicle or hefty baggage fees at the airport. Start with a packing list that meets all your needs. For clothes, bring things that can be worn multiple times and in different combinations. To minimize plastics and waste, pack reusable bags, a coffee cup and water bottle, which will save money on buying bottled water.
Eat like the locals
Consider dining in restaurants that source local ingredients – and shopping at local markets. Eating locally supports farmers in the area and eliminates CO2 emissions associated with transporting food. Order dishes made with in-season produce and locally made wine, beer or spirits. After a day of hiking in Costa Rica, I walked to local joints and, for about $10 a person, feasted on casados – a signature dish combining rice, beans, protein and vegetables.
Offset your travel
​​Some people and companies compensate for the environmental toll of their flights by purchasing carbon offsets, which invest in projects that reduce carbon dioxide emissions (such as wind farms, carbon capture, and more). Offsetting your trips won't clear the air of emissions associated with travel, but it can help balance the negative effects by making a positive impact on the environment.
Infuse the joys of travel into everyday moments
Even without a passport, you can bring a vacation vibe into your life.
You can sign up for a community event to rediscover your neighbourhood. Maybe there's a hidden historical fact that will surprise you. Travel doesn't always mean you have to visit far-flung places to gain new perspectives, knowledge or experience.
I know a successful executive who's travelled to the world's most beautiful destinations. While he enjoys these family vacations immensely, he's realized he doesn't "need" to be in Hawaii to be happy. That's because he is so mindful and present in his relationships and his work that he's able to respond to life's challenges with compassion, curiosity, creativity, and calm – some of the emotions many of us wait until we're on holiday to engage.
It sounds to me like a beautiful way to travel inward. No emissions involved.
This article is intended as general information only and is not to be relied upon as constituting legal, financial or other professional advice. A professional advisor should be consulted regarding your specific situation. Information presented is believed to be factual and up-to-date but we do not guarantee its accuracy and it should not be regarded as a complete analysis of the subjects discussed. All expressions of opinion reflect the judgment of the authors as of the date of publication and are subject to change. No endorsement of any third parties or their advice, opinions, information, products or services is expressly given or implied by Royal Bank of Canada or any of its affiliates.
Share This Article