How a Newcomer Couple Found Their Dream Home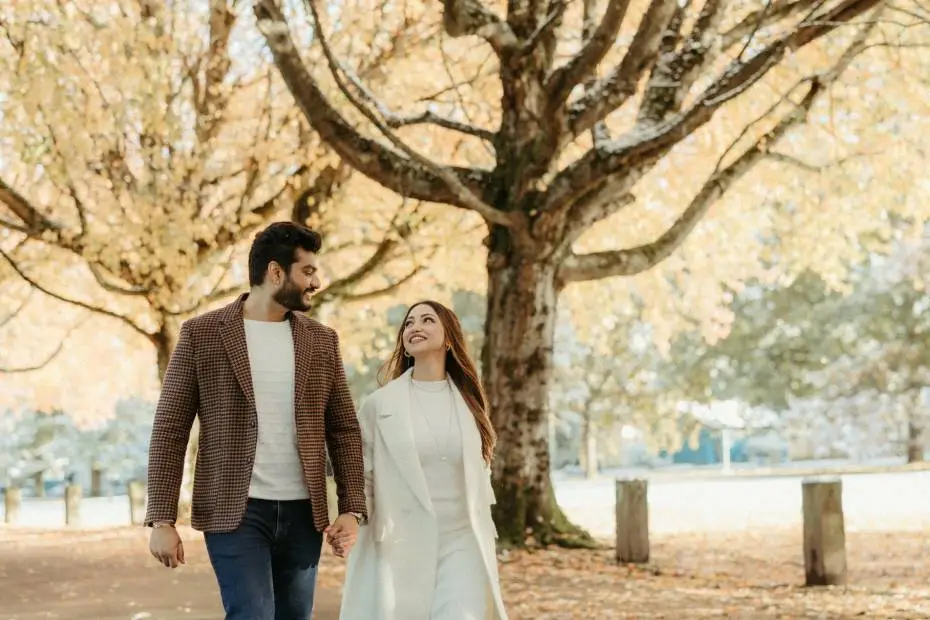 PUBLISHED February 2, 2023 • 7 min read
They were high school sweethearts. She came to Canada as an international student. Years later, he left his job and family in India to reunite with her. Married in 2019, Keerat and Feanshu are now dreaming big in Canada with thriving careers, growing networks and a home they love.
In 2021, the couple bought their first home in Surrey, B.C. They consider themselves lucky to be homeowners, but it's clear after speaking with them that it wasn't luck that got them there. They always had a plan. Keerat and Feanshu are not frivolous spenders, preferring budgeting over splurging. That, and a little creativity along the way, made their home ownership possible.
Born and raised in India, Keerat and Feanshu, both 29, recently spoke to us about learning to invest, setting big goals, staying on track and how they made home ownership a reality.
New country, new home
While Keerat's first priority when she arrived in Canada was her education, followed by a career, her long-term plan also included owning a home.
"When my husband moved here, I decided we weren't going to keep spending on rent," Keerat says. "We started financial planning early on, knowing it was important to figure out our long-term and short-term goals."
Saving became their top priority. They looked at cash-back offers, grocery deals and coupons, while investing a portion of their savings. Then they researched plenty. From learning mortgage rules and first-time homebuyer support programs to finding the right realtor, they armed themselves with the knowledge to make the best decisions.
While saving, they set their sights on finding their home.
"There was construction happening near the area where we used to go for late night walks and we used to say that one day, we will own a home there," Feanshu says. They set a strict budget of $350,000 – an amount many friends and family members said wouldn't be enough.
"A lot of people said to us that we wouldn't be able to get a good place within our budget," Feanshu says, "But I told Keerat that we're going to find our home with the money we have."
To make that possible, the couple treated every spending with care. "If your goal is to buy a home, then you may think twice about buying depreciating assets like a car. You need to make financial decisions ahead of your purchases. We made this possible by doing our financial planning."
Once ready, the couple scoured listings and scheduled home tours. Despite bidding wars and budget constraints, they acted fast. With a five per cent down payment, they bought a one-bedroom condo within their budget. It was a dream-come-true moment, but a "dream home" it was not. That's where their creativity came into play.
"The house had really bad smells when we moved it," Keerat says. With a little elbow grease – and the help of an uncle who was a contractor – they knew they could make it a home of their dreams.
The couple had new flooring installed and removed the popcorn ceiling. The bathroom was redone. "Now, we're living in a beautiful and cozy home," Feanshu says.
"I literally jumped when I got the keys," Keerat says.
Save for your first home, tax-free.
Coming Soon: The First Home Savings Account (FHSA)
New world of investing
A combination of budgeting, saving and learning about investing helped propel Feanshu and Keerat's journey to home ownership.
After arriving in Canada in 2021, Feanshu says he faced a concept unfamiliar to him: credit history. Like many newcomers to Canada, he grew up in a country where people are less reliant on borrowed money.
"The first thing I learned after moving here is that credit history is really important," he says. "You need it for a lot of things."
And so he wasted no time applying for his first Canadian credit card. "It came with a low limit, but it was something to start with," says Feanshu. He says he always pays his credit card on time, which has helped to build the credit history needed for other financial goals, like homeownership and growing his marketing consultancy business.
Keerat quickly started learning about investing in Canada, in part because of her studies in finance and accounting. While studying, she also lived with a host family who prioritized saving and investing – and had the opportunity to ask questions and learn from their experiences. Eventually Keerat, a former senior project manager who has now joined the marketing consultancy Feanshu started, went on to complete the Canadian Securities Course, giving her a more solid foundation in financial products and concepts.
But like her husband, Keerat remembers having to navigate something new early on: Registered accounts. They had no equivalent in her native India and she recalls starting out in her career reading all she could about tax-free savings accounts (TFSAs) and registered retirement savings plans (RRSPs). Now, she has both.
"I had to figure out how registered accounts like RRSP and others work because we have very different terms and terminology back in India." Keerat says, "So very early on, I knew the importance of putting away some money and learned to take advantage of various registered accounts."
Budgeting
Both Keerat and Feanshu consider themselves to be "big budgeters." While they tackle budgeting together, they also have their own styles.
Feanshu has a formula he follows in order to meet both his personal and business-related expenses and goals. After allocating for taxes, he earmarks about 25 per cent of his income toward business expenditures and household needs. Another 15 per cent is saved and invested. And anything left (about 20 per cent) is play money.
"This is the strict budget I will follow no matter what," says Feanshu.
To counterbalance occasional impulse purchases, Keerat says she has set up pre-authorized contributions, directing a fixed amount to her investments on a regular basis. "I do this now partly because I don't want to spend on random things. A part of my income is set aside regularly and that money won't be spent on things I don't need."
Staying on track
To reach their financial goals, the couple adheres to a principle they say has served them well: Spending with intention.
For Feanshu, that means separating the "wants" from the "needs." He says he was shocked to learn that a friend had shelled out $9,000 for a TV, something he categorizes as a want. While a new TV hasn't been on his wish list, he did recently contemplate buying a $4,000 watch. But not one for impulse purchases, he determined "the watch can wait."
While he considers the watch a "want," Feanshu is saving to buy a bigger vehicle, which he considers a need. "I'm 6 feet two inches. Now we have a sedan and it's not comfortable because of my height. It'd be nice to have an SUV."
Keerat has also embraced the mantra of spending with intention, though she admits she can sometimes get off track, finding it hard to pass up what she considers a good deal. "Sometimes, I buy something and ask myself later 'shoot, why did I buy that?'"
The couple boils down their spending philosophy to these simple words: see and think before doing.
Looking ahead
These days, the couple is focused on building their careers and enjoying hosting family and friends in their first home. They also share snippets of their daily life on YouTube. Among their dedicated followers is Feanshu's mom in India. "I'm a mama's boy," he says. "I don't always have time to call her, so she's learning how we're doing here through our YouTube channel."
What's next for the couple? In the next year or so, Keerat and Feanshu are looking to upgrade to a two-bedroom condo.
"If family members want to visit in Canada, we'll have a place for them," Feanshu says.
1 Keerat and Feanshu are RBC clients. They have been compensated for sharing their story.
This article is intended as general information only and is not to be relied upon as constituting legal, financial or other professional advice. A professional advisor should be consulted regarding your specific situation. Information presented is believed to be factual and up-to-date but we do not guarantee its accuracy and it should not be regarded as a complete analysis of the subjects discussed. All expressions of opinion reflect the judgment of the authors as of the date of publication and are subject to change. No endorsement of any third parties or their advice, opinions, information, products or services is expressly given or implied by Royal Bank of Canada or any of its affiliates.
Share This Article