Raising Money Smart Kids: Practical Tips for Parents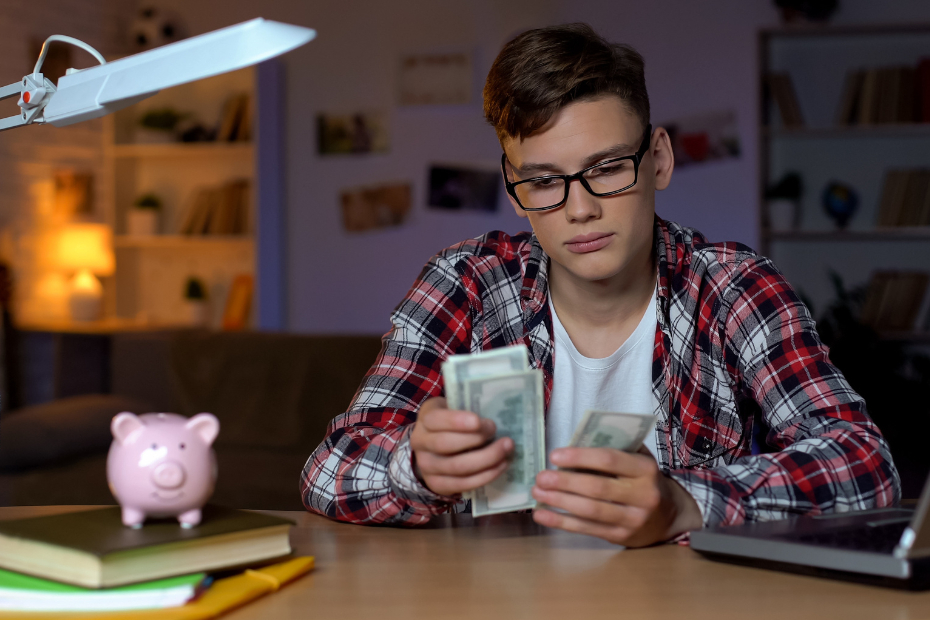 PUBLISHED August 25, 2023 • 4 min read
As a parent, you want to equip your kids with all the skills they need to be happy and successful. In addition to reading, writing, and math, they'll benefit from basic financial literacy — something usually not taught in school.
The good news is there's a lot you can do to give them the knowledge and skills to make informed money decisions. These actionable, age-appropriate tips can help your kids develop the skills they need to manage their finances throughout their lives.
Early money lessons
As elementary school students, your kids will receive lessons in basic math, including adding and subtraction, allowing you to reinforce their learning with concrete money exercises. You can do the following activities with your children to get them thinking about setting money goals and saving.
Work with your kids to identify an age-appropriate savings goal. Perhaps they want to buy ice cream at the store, or there's a book they've been wanting to read. Whatever goal they have in mind, you can use it to teach them about money and saving.

Open a bank account. You don't need to ditch the piggy bank altogether, but opening an account can teach your kids about basic banking, earning interest, and making deposits and debit purchases.

Pay them an allowance. An allowance lets them use a set amount of money how they wish. When they receive money, they'll get practice making financial decisions. If they save it instead of spending it, they'll be building towards a goal.

Revisit your child's savings. Part of learning about saving is seeing how money accumulates. Bring your child to the bank occasionally or check their accounts online together to see how much they've saved, how much they have yet to save, and how long they will need to keep saving to reach their goal.

Celebrate savings milestones. Hitting a savings goal is a huge deal. Acknowledge your child's efforts and let them pay using their own money.
The Leo's Young Savers Account from RBC is designed especially for young people. It offers unlimited debit and Interac transactions and pays interest; if you sign up by October 31, 2023, your child will get a $25 bonus.
Finance for older kids
As they become teenagers, they can take on more complex tasks and ideas, including earning, budgeting, spending, and investing. And, although they will become increasingly independent, you can still help them keep an eye on their progress.
Consider changes to your child's allowance. As children get older, they have more use for money. In addition to discussing a raise, assigning them tasks they have to complete to earn their allowance may make sense. If they are old enough, consider letting them get a part-time job. Earning through work and having a regular payday can get your child into good spending and savings habits.

Set up a budget. Budgeting is a crucial money skill that will become increasingly important as they age. Get them into the habit early. Show them how to document any earnings, including from a job or their allowance, and any expenses. A good budget can also account for putting away an emergency fund and savings.

Help them track their spending. Whether it's buying clothes, things to decorate their room, or days out with friends, it's normal for teens to experiment with their own spending power. Your job is to teach them the value of their money, how to stick to a budget, and how to avoid overspending.

Talk about investments. Understanding investments is one of the most overlooked areas of financial literacy. It can have a significant impact on their future financial health. If you have investments or retirement savings, explain why you chose to invest in those companies and consider including your child in keeping an eye on the stock and company news. Discuss the investments they can contribute to now, like their RRSPs and show them how compound interest grows their contributions.
A money app for kids developed by RBC, Mydoh gives your kids an account with a Smart Cash Card that lets them spend up to a limit while allowing you to set up tasks, transfer allowances, and track their earnings and spending along with them.
Being money-smart is important at any age. Integrate financial literacy into your everyday home life to make sure your kids get the education they deserve.
This article is intended as general information only and is not to be relied upon as constituting legal, financial or other professional advice. A professional advisor should be consulted regarding your specific situation. Information presented is believed to be factual and up-to-date but we do not guarantee its accuracy and it should not be regarded as a complete analysis of the subjects discussed. All expressions of opinion reflect the judgment of the authors as of the date of publication and are subject to change. No endorsement of any third parties or their advice, opinions, information, products or services is expressly given or implied by Royal Bank of Canada or any of its affiliates.
Share This Article