Alberta Entrepreneur Shelvie Fernan's Fly & Fetch is Tapping the Needs of Fellow Immigrants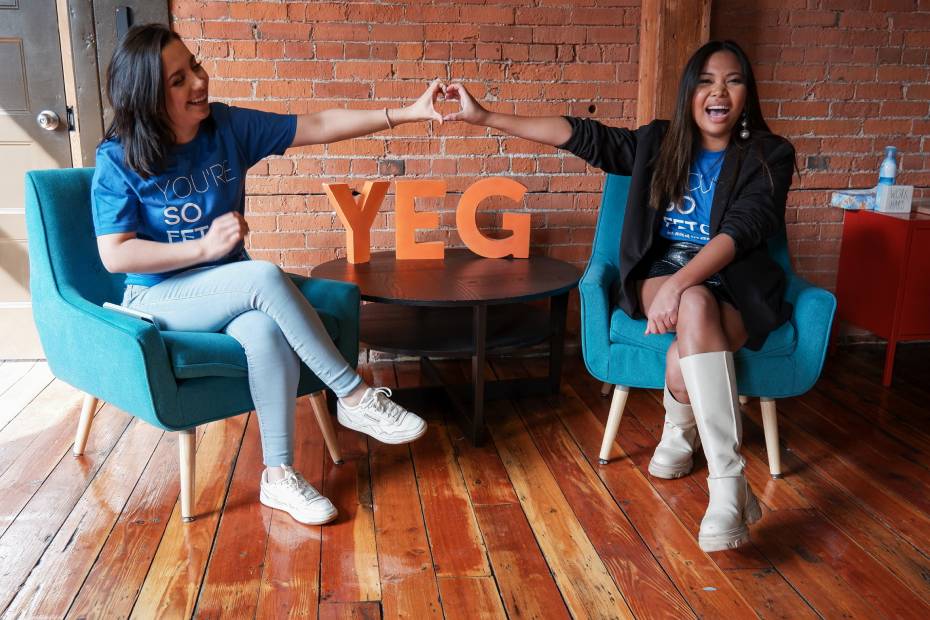 PUBLISHED August 19, 2022 • 6 min read
Fly & Fetch is the brainchild of CEO Shelvie Fernan and her two co-founders, Victoria Celi and Shane Brass. Shelvie was planning to start an earring business, which would have involved shipping products from the Philippines, where she was born. When Victoria pointed out the high cost of international shipping as a critical challenge, Shelvie explained she needed to find someone from the Philippines to carry them on their next flight to Canada, with compensation to cover their extra luggage space plus the duty and import costs. "And thirty seconds later, we thought, 'Wait a second, this is actually a business idea,'" Shelvie explains. After immigrating to Edmonton in 2012, Shelvie's father had been sending packages from Canada to the Philippines (and vice versa) but never used a courier company. Instead, he asked travellers in his Filipino community to help with packages. Shelvie and Victoria, both immigrants, recognized the viability of this model as a sustainable business — particularly after experiencing challenges with traditional international shipping methods. "There was a situation where I needed a letter expedited when applying for school in Canada. Most of my school papers were in the Philippines, and my mom had to send them here. I think it was about $200 to send a letter, and it took more than a week to get here," explains Shelvie. Fly & Fetch connects travellers and package senders willing to help each other. They find travellers willing to 'rent out' their extra luggage space to people who need to send packages abroad. Whether a small parcel or a product exclusive from a particular country, Fly & Fetch is a community-driven shipping platform that helps make international shipping more accessible to more people.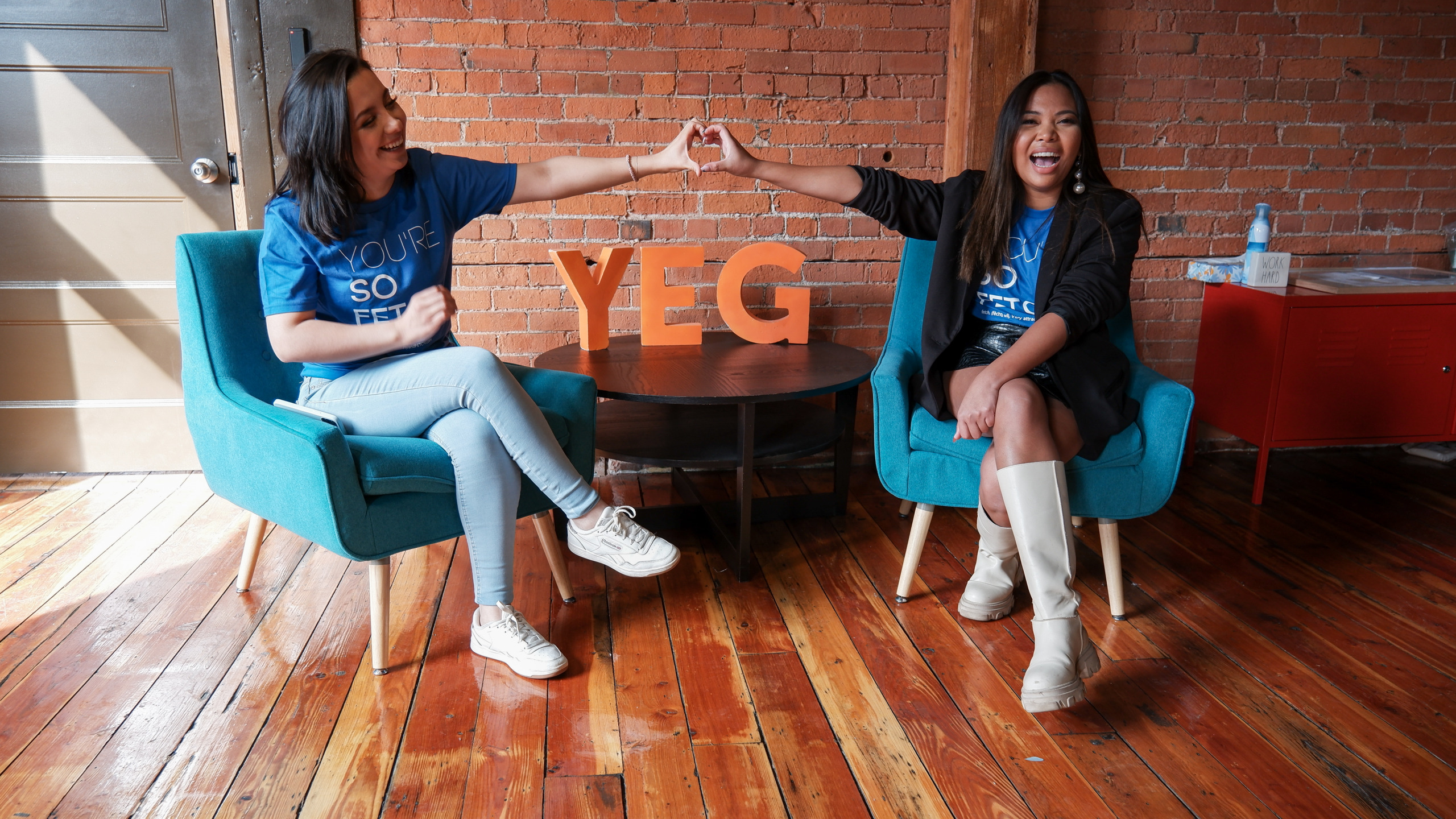 Photo: Fly & Fetch CEO Shelvie Fernan (right) and co-founder Victoria Celi (left).
A community-fuelled business
Founded in 2019, Fly & Fetch had an unusual startup stage, given the pandemic hit just a few months after launch. "COVID definitely suppressed our growth, but at the same time, we saw it as an opportunity to learn a lot about our business," says Shelvie. For example, the team learned how to manage cancellations and delays, as well as scenarios where travellers got sick or changed their plans. "Now we know what to do when the unexpected happens, and we're more prepared for steady growth." With a Bachelor of Science in Electronics and Communications Engineering and a degree in Business Administration with a Major in Entrepreneurship & Innovation and Marketing, Shelvie draws on her education and experiences to make the business successful. Having led international students for over three years while at school, she has developed powerful leadership skills and a strong network that has enabled growth through referrals and word of mouth. The company also builds its brand through influencer marketing. "We partner with micro-influencers within certain communities who use our product and speak about what we do and what works well," explains Shelvie. "We see a lot of word of mouth through our platform, and many customers share their experiences with us through Facebook. The community approach has been very successful for us."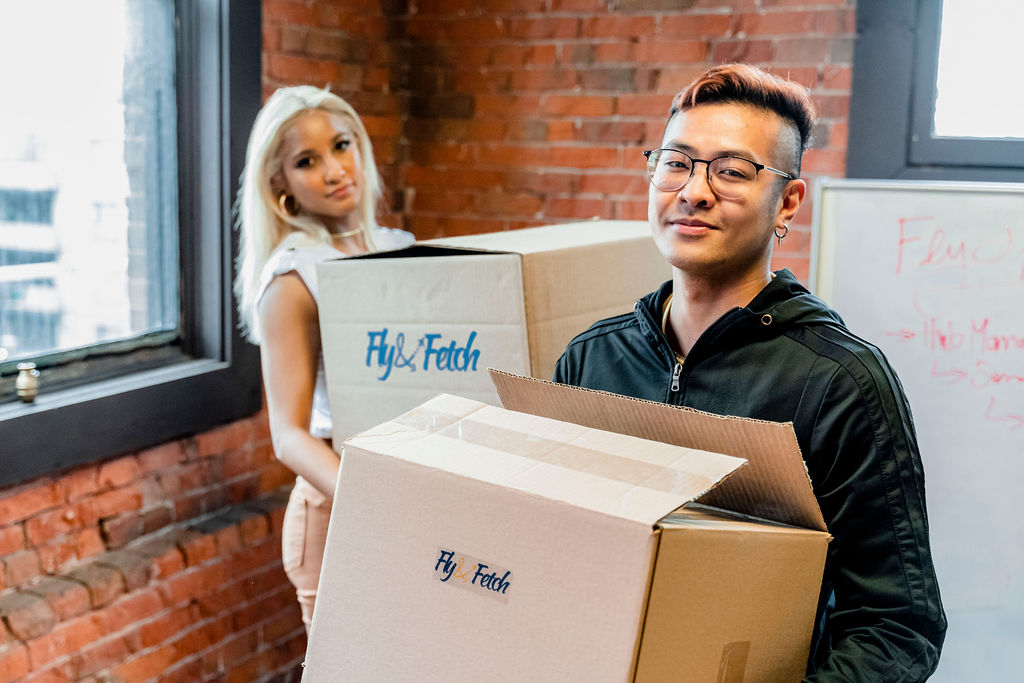 Photo: Fly & Fetch finds travellers willing to rent out their extra luggage space to people who need to send packages abroad.
Building entrepreneurial skills through 150 Startups
150 Startups
is a multi-year Alberta-wide initiative supported by RBC, designed to build a more resilient economy and expand Alberta's entrepreneurial capacity by creating more first-time entrepreneurs. Following university, Shelvie attended 150 Startups at Bow Valley College in Alberta, where she learned vital entrepreneurial skills, grew her business network and formed mentoring relationships she continues to draw on as she builds her business. "One of the best things 150 Startups offers is the mentorship relationship," says Shelvie. "Your mentor gives a lot of feedback and advice," she explains, adding that while she has graduated from the program, she maintains a relationship with Craig Elias, the Entrepreneur-in-Residence at 150 Startups. "I know he's just a text away if I need some advice," says Shelvie. "150 Startups taught me how to form these lasting relationships, use and accept feedback and always be coachable." Shelvie also explains that she learned how to pitch in the program, building winning pitch skills that helped her build Fly & Fetch. "Craig is the best pitch coach out there, and I tapped into that," she says, sharing that she has won several pitch competitions, including the Draper University Pitch Day.
Expanding markets
Today, Fly & Fetch focuses on shipping between four countries: Canada, the U.S., the Philippines and Pakistan. Their users are primarily immigrants and their families. As Shelvie explains, they're the first adopters of this kind of service and have already established communities comfortable with this international shipping style. "For example, there is a Facebook group in Pakistan with 178,000 members, and all they do is a Fly & Fetch method," explains Shelvie. All negotiations are done within the Facebook group, and about every two hours, someone posts a request to send a parcel to Canada or the U.S. "We see this as a validation that it's a big market for us." The company is expanding into the B2B market, finding ways to present their shipping method as an alternative to e-commerce sites and online marketplaces. "Many businesses come to us having heard we're a faster, more secure shipping company. So we are currently working to build an effective business solution, making it easy for businesses to ship through our platform," says Shelvie. With six businesses on their client roster today, the team plans rapid growth once word spreads of the value they can provide. Their goal is to have 100 businesses on board by the end of the year. To service their growing business, Fly & Fetch has a full-time staff of twelve and hub managers across their key markets. "Our hub managers are independent contractors who organize the travellers and shipments at the destination. Our goal is to have at least 1,000 hub managers in two years," says Shelvie. The Fly & Fetch mission is to make shipping cheaper, faster and friendlier with a vision to create a community built on trust that makes international shipping accessible to everyone. Ultimately, their objective is to help ship items for everyone, from anywhere to anywhere. "A lot is happening in the next few years," says Shelvie. "We're super excited about it all."
RBC is here to help you move closer to business ownership with practical start-up steps.
This article is intended as general information only and is not to be relied upon as constituting legal, financial or other professional advice. A professional advisor should be consulted regarding your specific situation. Information presented is believed to be factual and up-to-date but we do not guarantee its accuracy and it should not be regarded as a complete analysis of the subjects discussed. All expressions of opinion reflect the judgment of the authors as of the date of publication and are subject to change. No endorsement of any third parties or their advice, opinions, information, products or services is expressly given or implied by Royal Bank of Canada or any of its affiliates.
Share This Article