Areli Beauty: A Skincare Brand with a Message of Empowerment and Self-care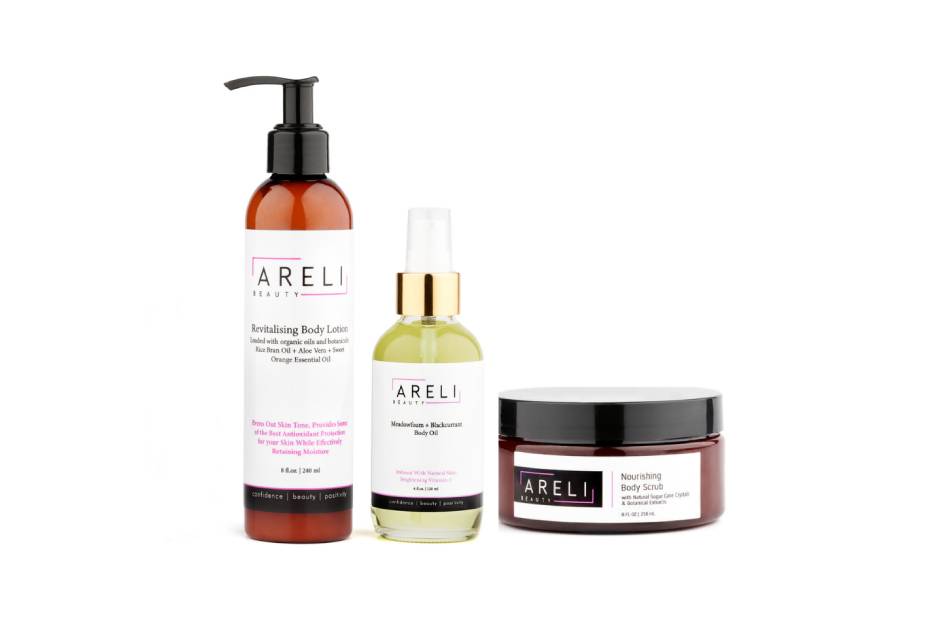 PUBLISHED May 6, 2022 • 5 min read
Nancy Ihebom immigrated to Canada from Nigeria in 2016 with her husband and six-month-old son. Upon moving here, she developed very dry skin thanks to the cold, dry air in her new home — yet the moisturizing products she found were all heavy and needed to be reapplied often. After working for a number of years in corporate banking — and armed with a biochemistry degree from Enugu State University of Science and Technology in Nigeria — Nancy decided to take matters into her own hands, launching her own skincare brand in 2020.
Areli Beauty offers a range of plant-based, natural skincare products such as body scrubs, oils and lotions. Nancy has been deliberate about developing her line with organic, naturally derived ingredients. "My background in biochemistry helped me with deciding on the products I wanted because I understand how certain chemical components work and which ones are great for the skin. That's why I was intentional about going for natural products that are safe for the skin and would enhance your natural glow," Nancy says.
From skincare to self-care
Part of what makes Areli Beauty unique is its focus on self-care. "Areli Beauty is based upon a self-love approach to beauty and wellness," Nancy explains. "I noticed that during COVID especially, people began putting their health and wellness at the forefront, recognizing the need to take care of themselves," she says. Nancy is a firm believer people must put themselves at the top of their to-do lists. "Only then are you able to take care of your kids, your family and your career. I'm using the business as a vehicle to drive the message to always take care of yourself."
In addition to selling the skincare line, the Areli Beauty website features a blog that covers topics on how to improve your life through self-care, acknowledging that sleep, activity and diet contribute to physical and mental wellness. And with four young children at home and a growing business, Nancy feels she must put her ideas into practice in order to balance her work and her family. "My children are my assistants," she laughs. "They inspire me." She adds that she manages her days in blocks of time — for family, work and self-care — so she has enough energy for each part of her life.
Building toward an exciting future
While Nancy hasn't done an official "launch" of Areli Beauty, she has received great feedback from buyers and gained repeat customers who, like her, were looking for an alternative to the heavy moisturizing products most commonly sold in Canada. "My product is more silky-smooth and you don't have to keep layering it on," says Nancy about her moisturizing product. "I've gained a lot of repeat customers who come back to buy the oils and lotion — the feedback has been great so far."
She has also gained a network of clients through RBC's Canadian Employee Perks program. Through its partnership with Perkopolis, RBC provides employees with access to exclusive entertainment and lifestyle offers, travel, insurance benefits and other value-added perks. In 2021, a new program was launched to elevate brands run by Black, Indigenous and people of colour (BIPOC) entrepreneurs. The Perkopolis team also offered to profile all the Black-owned brands uploaded to the RBC Canadian Perks Program on their network of 1.1 million members for the month of February for no cost in honour of Black History Month. Their newsletter, sent to approximately 560,000 subscribers, also featured the brands at no cost, which included Areli Beauty. As a result, Areli Beauty had the opportunity to tap into a new audience, which helped boost both web traffic and product sales.
"I have received great support from RBC," says Nancy. "From opening my account to setting up my business to being featured in their employee perks program."
To operate and grow her business, Nancy works with several external partners — including a social media expert, web developer, tech support team and more. While she doesn't have a formal team, a good network has helped her get up and running and move her business forward.
Nancy's short-term plan is to launch three new products towards the end of the year, with an aim to hire employees and open a retail space in 2023. "We're doing market research right now, so we're looking at spring of next year," she explains. "I am looking forward to having a space where people can come in, touch and feel our products and have a personal experience. I think a lot of people have missed that." She adds. Nancy also plans to sponsor and partner with mental health and wellness organizations to set up workshops and events in the community.
Longer-term, Nancy wants to expand her brand to develop a lifestyle and wellness line to provide customers with a cohesive, overall experience "of looking good, smelling good and feeling good," she says.
Nancy is grateful for the opportunities that exist in Canada, for those with the ambition and drive to seek them out. She is also proud that Areli Beauty Inc. was officially selected in 2022 as a top 100 finalist in Canada's Total Mom Pitch.
With support from RBC, her customers and her family, Nancy is excited to broadcast her message of self-love, empowerment and self-care through her growing business.
This article is intended as general information only and is not to be relied upon as constituting legal, financial or other professional advice. A professional advisor should be consulted regarding your specific situation. Information presented is believed to be factual and up-to-date but we do not guarantee its accuracy and it should not be regarded as a complete analysis of the subjects discussed. All expressions of opinion reflect the judgment of the authors as of the date of publication and are subject to change. No endorsement of any third parties or their advice, opinions, information, products or services is expressly given or implied by Royal Bank of Canada or any of its affiliates.
Share This Article