Travelling on a Budget: How to Save Money on Travel to the U.S.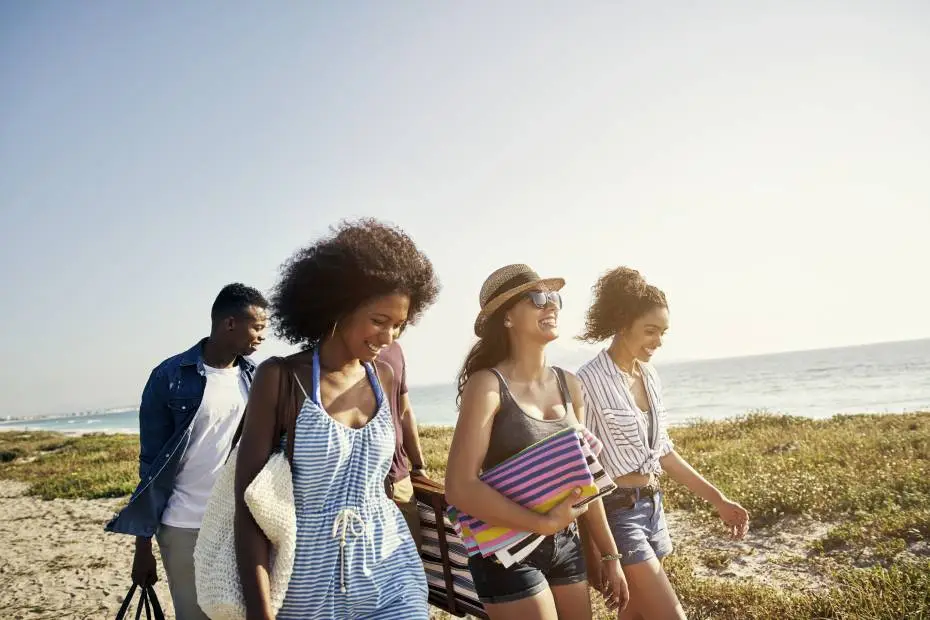 PUBLISHED August 25, 2022 • 5 min read
Canadians are keen to get away. With the pandemic having restricted travel over the last 2+ years, there's a pent-up desire for a change of scenery. What's more, Canadians are actively prioritizing their mental health in 2022, and many studies have revealed mental wellbeing has worsened between 2020 and today. As vacations are linked to a decrease in stress and depression, it's no wonder the desire to travel is both strong and urgent.
The thing is, inflation is squeezing Canadians' budgets just as restrictions are largely in the rear view mirror. As people feel the pinch on essentials such as gas and groceries, travelling on a budget seems out of the budget.
Fortunately, there are ways to save on travel, particularly if you're eyeing a trip to the U.S. These five tips can help you save on your next U.S. vacation, allowing you to get the mental health break you need without breaking the bank.
1. Time it right
If you're flexible in your vacation scheduling, there are a few ways to save big on the destinations you're most excited about.
Budget-friendly beach getaways
If you need some sunshine and warmth over the winter months, consider heading south a little sooner — or later — than most. While the weather isn't typically as warm in the southern states in January or early February, it's also not as busy. Plus, the temperature can be extremely comfortable, if not downright hot at times — by Canadian standards. As a result, flights and hotel prices tend to be considerably lower. And because peak season usually ends in March, if you hold off until April, you'll often find prices have dropped once again.
Theme park adventures on a budget
Shorts and sandals weather isn't mandatory for theme parks. Riding rollercoasters, exploring studio sets and visiting imaginary worlds can be done any time of year. Find out what the off-peak times are for the park of your choice by researching travel information sites and park attendance levels. In addition to short wait times, you may discover the joy of saving cash on your family adventure.
City trips don't have to break the bank
The big cities of the U.S. offer history, exceptional restaurants and world-renowned attractions. But New York at Christmas or L.A. in the summer? Those trips can get expensive. If you want to travel to the big U.S. cities on a budget, plan to head there during their off-seasons to save some bucks.
2. Road trip it
One reason the U.S. is an appealing destination for Canadians is proximity. While you might not be up for driving from Montreal to Los Angeles, there are many sites, cities, beaches and attractions you can easily get to by car — wherever you're starting from.
And while gas prices in Canada hit an all-time high this year, fuel is less expensive in the U.S. — even with the conversion. So while a road trip may not sound like budget travel in 2022, it may be cheaper than flying, depending on the destination. Remember, there's a great deal to explore in the U.S., so figure out how far you're willing to drive and map it out. Where can your four wheels take you?
3. The ultimate budget travel hack: perks, discounts and deals
If you're willing to do some research, there are travel deals and discounts to be had. After all, hotels, rental car companies and airlines aim to attract eager travellers to their businesses. For instance, many sites help you find the best deals when you're trying to travel on a budget.
Skyscanner is an easy-to-use site for budget travellers that lets you search round-trip, one-way or "everywhere" flights — which helps if you're flexible on your destination or just not sure where you want to go.
Travelocity.ca and Expedia.ca are two go-to travel booking sites for those travelling on a budget. They search for fares, hotels and car rentals based on price and availability and have been around for years for a reason. They're easy to navigate, reputable, and lay out all your options, making decision-making easier.
Kayak.com is another popular site for travellers on a budget. They let you search several travel sites at once in search of the best deal – plus they have a handy alert service that can let you know when prices drop.
If you're an RBC Bank client, you get access to Abenity, which offers 300,000+ discounts on hotels, restaurants, attractions and more. You can use Abenity's mobile app or website for discounted rates on fun experiences, travel, dining out, necessities and more in the U.S.
4. The (other) ultimate budget travel hack: Points
Like many Canadians, you may have a stockpile of rewards points you haven't used since sometime in 2019. Some rewards points can be used to pay for or offset the cost of flights, rental cars and hotels, not to mention travel essentials, beach gear or new electronics for that road trip.
5. Pack a U.S. credit and debit card
When planning what to take for your U.S. vacation, consider that the right banking tools can help you save while you travel. A U.S.-based credit card, for instance, lets you avoid foreign transaction fees, which can run up to 2.5% of the price of your purchase. With certain cards, you can also earn rewards and enjoy travel and purchase protection.
Travelling on a budget: The Rundown
While budgets may be tight these days, travel is an important contributor to positive mental wellbeing, and there are countless benefits to experiencing new people and places. Budget-friendly vacations can help you fulfill your travel aspirations while staying on track financially. It just takes some planning, creativity, and an open mind when charting your next U.S. destination.
Travelling to the U.S. on a budget?
Set up your U.S. banking and credit card before you travel to make life simpler.
This article is intended as general information only and is not to be relied upon as constituting legal, financial or other professional advice. A professional advisor should be consulted regarding your specific situation. Information presented is believed to be factual and up-to-date but we do not guarantee its accuracy and it should not be regarded as a complete analysis of the subjects discussed. All expressions of opinion reflect the judgment of the authors as of the date of publication and are subject to change. No endorsement of any third parties or their advice, opinions, information, products or services is expressly given or implied by Royal Bank of Canada or any of its affiliates.
Share This Article