How to Make a Strong Case for Bank Financing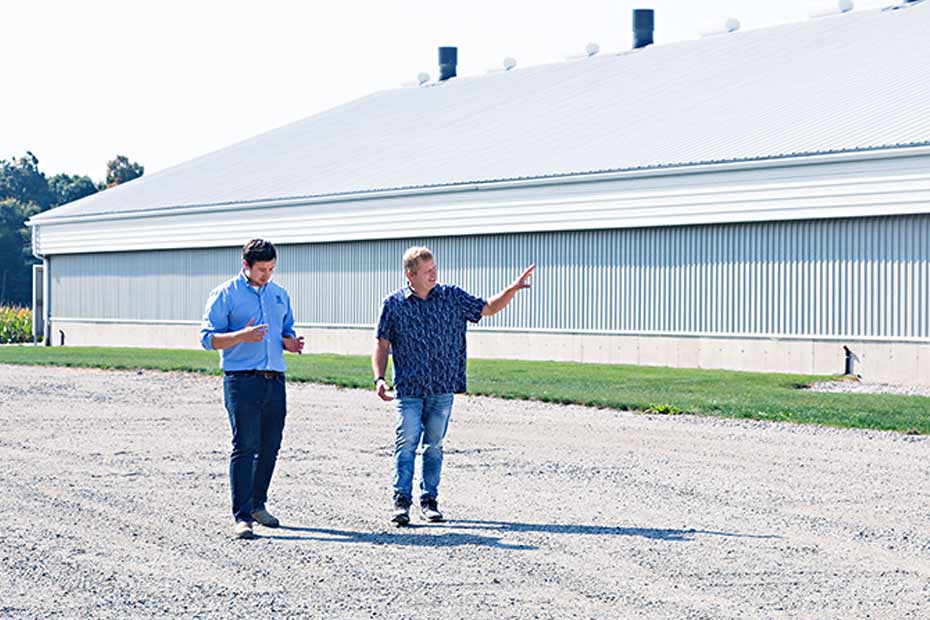 PUBLISHED January 20, 2022 • 4 min read
You want to grow your land base, expand your equipment lineup or build a farm facility. Your banker wants to drop by the farm and review your financing request.
Is that really necessary, you ask? Why not just email your financial information and wait to hear whether the bank says yes or no?
As Jarrett Olson explains, that's because the lender wants to know more than just your financial picture.
"The lender will evaluate the risk, but it's up to the farmer to make their case," says Olson, Sr. Agricultural Account Manager with RBC Royal Bank in Morden, Man. "When I go out to see someone who's new to RBC, there are a number of things I will look at to either recommend or not recommend that RBC fund the request."
Here's a quick look at what Olson wants to learn about the farm owner on that visit.
The farm's past and present:
You can tell a lot just by driving into the farmyard and seeing the farm operation's set-up. That gives the banker some insight into how the farm is run.
"We'll start by talking big picture, including the history of the farm and how it has developed over the years," says Olson. "I find it's really important to understand the history of the farm and then zero in on what's been going on with the farm more recently."
The farm's vision within a changing industry:
Often, the financing request is about land or equipment. Olson wants to know how that fits into the farm's overall vision for the future.
"The ag industry is changing," says Olson. "I think the only way you're going to stay on top of things, and continue to be a successful farm, is to think about how you're responding to this. I want to get a sense of where they see the industry going and what their plan is."
Historical and projected finances:
While submitting a formal business plan typically isn't required for an existing farm (it might be for a start-up), Olson wants to understand the farm's finances. A look at historical finances is a given, but also how the new purchase would affect future revenue, cash flow and profitability. Many farmers will have spreadsheets prepared that provide detailed information. To Olson, that's a great sign.
"Have they put pencil to paper and worked on these questions? That's really important," says Olson. "We can run financial ratios to see how those ratios would be affected by the new land or equipment if the financing is approved. We like to get the impression of a farm manager working on the business versus in the business. We like to see they're aiming to be in the upper echelon in their sector."
Production records:
Is the applicant an efficient producer? Olson will ask about production benchmarks relative to the producer's sector. What's your average canola yield over the past 10 years? What percentage of your dairy quota have you delivered over the past five years? Knowing this adds to the lender's understanding of the risk and potential reward of, for example, more land or a new dairy barn.
Management goals:
In discussing the farm's production, finance and future plans with the owner, Olson will gather a sense of what kind of manager he or she is. One subtopic within the management area is risk management. Does the farmer understand and use risk management tools such as crop insurance and AgriStability?
While not everyone would look forward to a banker's visit to the farm, Olson will tell you it's his favorite part of the job.
"A large majority of our clients are in that better class of farm manager," he says. "Those partnerships with our clients are why we get up in the morning and come to work. It is incredibly rewarding when you can develop a relationship, and provide advice that is going to help someone hit the goals they've set for their farm."
This article is intended as general information only and is not to be relied upon as constituting legal, financial or other professional advice. A professional advisor should be consulted regarding your specific situation. Information presented is believed to be factual and up-to-date but we do not guarantee its accuracy and it should not be regarded as a complete analysis of the subjects discussed. All expressions of opinion reflect the judgment of the authors as of the date of publication and are subject to change. No endorsement of any third parties or their advice, opinions, information, products or services is expressly given or implied by Royal Bank of Canada or any of its affiliates.
Share This Article